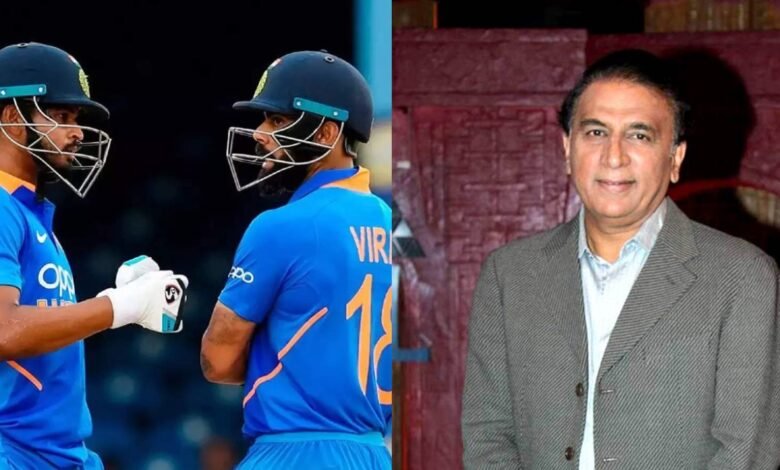 Even though Shreyas Iyer has scored three back to back half-centuries, the former Indian opener Sunil Gavaskar is not convinced that Iyer should replace Virat Kohli at no. 3 in the Indian T20I team. Kohli's form in T20I cricket hasn't been a matter of as big a concern as it has been in test cricket, but his intent and strike rate have been under the microscope.
Shreyas Iyer, in the meantime, batted with a lot of intent at no. 3 in the series against Sri Lanka and now the questions are being asked if Iyer should bat at no. 3 in the T20I games for India, rather than Virat Kohli. Another impressive thing about Iyer, apart from his intent in the powerplay, is his attacking game against spinners in the middle overs.
Sunil Gavaskar is, however, of the view that there is no question of anyone replacing Virat Kohli at no. 3 at the moment. While speaking in the post match show on Star Sports after the third T20I between India and Sri Lanka, Gavaskar said if India has to play Shreyas Iyer, they will have to find a spot for him at no. 4 or below that.
Shreyas Iyer might not be in the playing XI if he doesn't bat at no. 3
The problem with Indian team management at the moment is that Suryakumar Yadav has almost established himself in the XI as well and Rishabh Pant will most likely be the first choice wicket-keeper when he returns. Ravindra Jadeja plays as an all-rounder. So, if Shreyas Iyer doesn't bat at no. 3, it might be difficult for him to find a spot in the playing XI at all.
Iyer himself has hinted in a couple of his recent media interactions that he feels no. 3 is the right spot for him. Interestingly, Virat Kohli is someone who opens the batting a lot in the IPL and can be an opening option for India in T20 internationals as well, but in that scenario, KL Rahul's place in the playing XI might be doubtful.