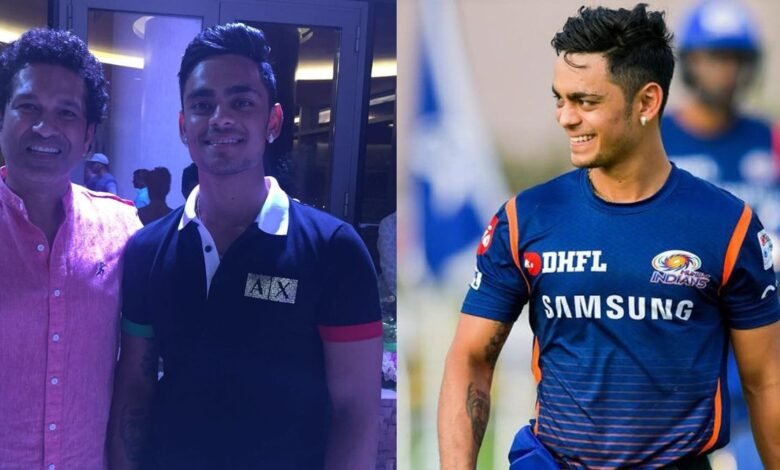 The MI dressing room, i.e. the dressing room of the Mumbai Indians team, is famous for being one of the best team environments to be a part of in the Indian Premier League. Some of the biggest names in world cricket have been a part of the MI dressing room.
Currently, Sachin Tendulkar is in the MI dressing room, where he is mentoring the Mumbai Indians squad. Tendulkar was once a Mumbai Indians player, but after retiring, he has continued his association with the franchise as a mentor and a consultant. Recently, a video of Ishan Kishan, one of the youngsters in the Mumbai Indians team, went viral. It featured his reaction after seeing Sachin in the dressing room.
Ishan Kishan noticed Sachin Tendulkar, here's what he did next
As mentioned ahead, a video from the MI dressing room featuring Sachin Tendulkar and Ishan Kishan has gone viral. It features the reaction of Kishan after noticing Sachin in the dressing room. You can watch that video right here:
Cute from Ishan kishan 😂😍😍
Sachin 🤩@mipaltan @ishankishan51 @sachin_rt pic.twitter.com/smP9ewAfu4

— . (@itz_shylesh) September 30, 2021
Ishan Kishan entered the dressing room with his goggles and earphones on. However, after noticing Sachin, he removed both goggles and earphones and wished Good Afternoon to Sachin Tendulkar. The other players in the dressing room were left in splits after seeing the reaction of Ishan Kishan. The likes of Jayant Yadav and Kieron Pollard can be seen laughing after seeing how Kishan reacted.
Tensions might be high in MI dressing room right now
The MI dressing room will be under pressure because of the three defeats they suffered in the United Arab Emirates leg of the 2021 edition of the Indian Premier League so far. They need to perform well in their remaining matches to qualify for the playoffs. Their next match is against the Delhi Capitals, who have performed exceptionally well.
The Mumbai Indians team are the two-time defending champions of the IPL right now. However, they have not been so convincing this year. Even the victories they have registered, they have been convincing. The Rohit Sharma-led outfit will try to build a winning streak in their upcoming games and qualify for the IPL 2021 playoffs.