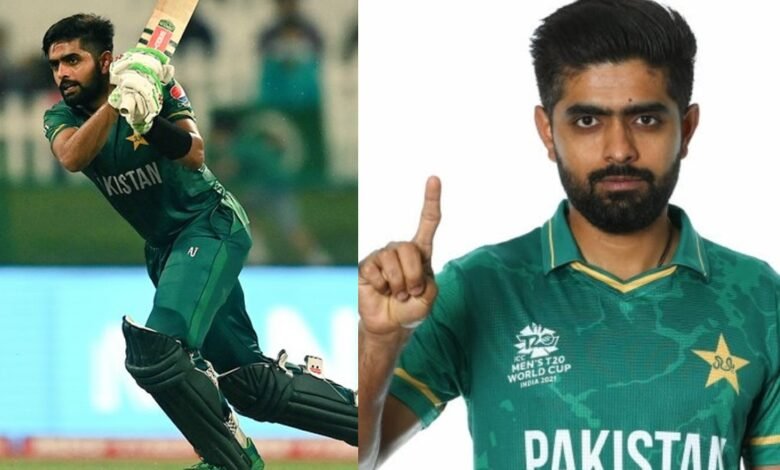 After becoming the best ODI batsman in the world a few months ago, Babar Azam has now achieved the top ICC ranking in T20 international cricket as well and on the basis of rankings, he can be called the best white-ball batsman in the world right now.
Babar, who always gets a bit of criticism for his strike rate in T20 international cricket, has scored three fifties in the ongoing T20 World Cup and all three have resulted in a Pakistan win, even though none of those fifties were scored at a very high strike rate.
The surfaces that have been on show in the UAE in this T20 World Cup have been slow and, at times, two-paced in nature as well, and they have required Babar's style of batting, rather than power-hitting against the new ball, right from the word go.
Babar has made a serious impact for Pakistan in T20 World Cup 2021 already
In the first game that Pakistan played in the T20 World Cup 2021 against India, the new ball moved quite a bit early on, but Babar dug in and got Pakistan over the line with a crafty half-century, and he did it again against Afghanistan as well, although the victory against Afghanistan wouldn't have been possible without Asif Ali's cameo at the end.
Babar's third half-century against Namibia last night didn't just ensure Pakistan's qualification to the T20 World Cup
semi-final, it also ensured Babar's rise to the top of the T20 international rankings.
English top-order batsman Dawid Malan was the no. 1 T20I batsman in the world in the previous rankings released by ICC, but he lost his top position as his recent form has been shaky and he hasn't really got even one substantial score to his name in the ongoing T20 World Cup so far.
Here is how Twitter reacted after Babar Azam became the no. 1 T20I batsman in the world –
Babar Azam is number 1 in ODI and T20 in ICC ranking – one of the finest in this generation – leading Pakistan from the front with the bat.

— Johns. (@CricCrazyJohns) November 3, 2021
Babar Azam back at number one in ICC T20 Rankings.

— Mazher Arshad (@MazherArshad) November 3, 2021
ICC Rankings

No.1 Test Batsman – Joe Root
No.1 ODI Batsman – Babar Azam
No.1 T20I Batsman – Babar Azam*

No.1 Test Bowler – Pat Cummins
No.1 ODI Bowler – Trent Boult
No.1 T20I Bowler – W Hasaranga*

— CricBeat (@Cric_beat) November 3, 2021
Babar Azam replaces Dawid Malan as the new No.1 Ranked T20i batsman.

— Mufaddal Vohra (@mufaddal_vohra) November 3, 2021
"𝗕𝗮𝗯𝗮𝗿 𝗔𝘇𝗮𝗺 – 𝗧𝗵𝗲 𝗯𝗲𝘀𝘁 𝗶𝗻 𝘁𝗵𝗲 𝗯𝘂𝘀𝗶𝗻𝗲𝘀𝘀"

If someone asks you what is ruling white-ball cricket? Show them these pictures. No.1 in ODIs, No.1 in T20Is.

Was just a matter of time, never a doubt – Babar Azam is back to where he belongs 👑 🐐 #BabarAzam pic.twitter.com/XSXzwyhxhs

— Team Babar Azam (@Team_BabarAzam) November 3, 2021
Alert: Babar Azam become world #1 batsman in ICC T20I ranking pic.twitter.com/4HpLSXmaAF

— Abdul Ghaffar (Replay, Dawn News) (@GhaffarDawnNews) November 3, 2021
Why only batters from Australia India England in top list of ICC test rankings? because these three consistently play alot of test cricket. Babar Azam who's now #7 in test ranking would've surely been in top three if Pakistan had got same number of test matches like Aus/Eng/India

— Arfa Feroz Zake (@ArfaSays_) November 3, 2021
Babar Azam : "It is a good little motivation to be back on top of the T20I rankings. But the bigger picture is these performances have helped Pakistan to rise to No.2 and become the first side to qualify for the semifinals of the ICC Men's T20 World Cup 2021"#Cricket pic.twitter.com/ljYYpUjmVW

— PakPassion.net (@PakPassion) November 3, 2021
Pride of Pakistan @babarazam258 is on Top of the list of @ICC T20 Cricket ranking. Congrats 👏👏👏

— Aalia Rasheed (@aaliaaaliya) November 3, 2021
🇵🇰👑 He is number one T20 batsman in the world now!! Babar Azam replaces Dawid Malan as number one T20 batsman in ICC rankings. Meanwhile Mohammad Rizwan earns fourth position in T20 rankings whereas Shaheen Shah Afridi stands #13 in T20 bowler's ranking. #T20WorldCup

— Arfa Feroz Zake (@ArfaSays_) November 3, 2021
𝟎𝟓 𝐌𝐚𝐫 𝟐𝟎𝟎𝟓 – 🇦🇺 Ricky Ponting Became Number 1 in ICC T20I and ODI Batting Ranking

𝟏𝟏 𝐉𝐮𝐧𝐞 𝟐𝟎𝟏𝟕 – 🇮🇳 Virat Kohli Became Number 1 in ICC T20I and ODI Batting Ranking

𝟎𝟑 𝐍𝐨𝐯 𝟐𝟎𝟐𝟏 – 🇵🇰 Babar Azam Becomes Number 1 in ICC T20I and ODI Batting Ranking

— 𝗝𝘂𝗻𝗮𝗶𝗱 𝗭𝗮𝗳𝗳𝗮𝗿 🇵🇰 (@iam_JZK) November 3, 2021