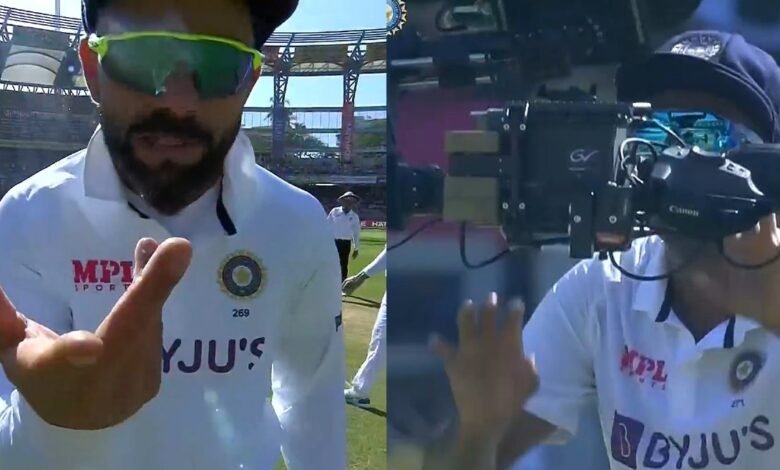 You would have heard about umpires opting for an early tea in a test match because of bad light or rain or even due to wet outfield on a few occasions, but hardly would you have ever heard about umpires opting for an early tea due to spider cam (spidey).
But, it happened on the third day of the ongoing test match between India and New Zealand at the Wankhede Stadium. When New Zealand came out to bat in the fourth innings in pursuit of the humongous target set by India, they lost Tom Latham's wicket cheaply and then the spider cam got stuck on top of the ground.
The spider cam is generally used over the playing area after the fall of a wicket or during other times as well to get a picturesque view and it is taken away as soon as the play resumes, but when it was brought over the playing area after Latham's wicket, it just got stuck and couldn't be moved afterwards.
Since it was close to the tea, the on-field umpires came to the decision that it would probably be right to take the players off for an early tea so that the broadcasters would have enough time to take the spider cam away. Everyone had a chuckle over the situation and the Indian players even had a little bit of fun with the cam as it had got very close to the ground level.
Spider cam had caused a controversy in the IPL final too
There have been controversies in cricket games before because of the spidey and none more recent than the IPL final where Shubman Gill was declared not out when his catch was held by the CSK fielder Ambati Rayudu after the ball had already hit the wire attached to the spidey.
The spidey was over the ground at that point of time and the CSK captain MS Dhoni was visibly furious with what panned out when Shubman Gill's catch went up in the air.
While the spidey didn't cause any obstruction in play during the Wankhede test match, it still got very close to the ground while the players were celebrating Tom Latham's wicket and eventually couldn't be brought up because of some issues with the set up.
The problem was later resolved as the play started without any hindrance after the tea. However, Twitter users came up with funny reactions when the spider cam caused an early tea in the test match –
Kohli reminding spider cam#NZvIND pic.twitter.com/NKSC7GGqn5

— Mai Huun Don (@Iamfmk1) December 5, 2021
Spidercam creating some trouble. No way home! Indian players having some fun. #CricketTwitter #INDvNZ pic.twitter.com/Hn2wBXJ2bd

— The Game Changer (@TheGame_26) December 5, 2021
#INDvsNZTestSeries @imVkohli Bhaiya #SpiderCam ko bolte huye ke janab tahan ground mein kya kar rahe ho Uper jaao😂😂mast ek dum pic.twitter.com/Fo1et3S23z

— Ashok Rana (@AshokRa72671545) December 5, 2021
Spidercam got stuck and umpires decided to take the Tea. pic.twitter.com/fAq9Py8tFu

— Mufaddal Vohra (@mufaddal_vohra) December 5, 2021
Virat Kohli saying Spidercam to go up. pic.twitter.com/M9EnD3wP7e

— Johns. (@CricCrazyJohns) December 5, 2021
fun with Spider Cam 😆 pic.twitter.com/5EDnfFp9dG

— sohom (@AwaaraHoon) December 5, 2021
Indian players to spider cam😂😂😂#INDvzNZ pic.twitter.com/7K3nCgfU9Z

— Games Underson (@Cloudy_popa) December 5, 2021
Match stopped by Spider Cam is the possibly the 15th/16th distinct reason for cricket to stop play.

— Mr. Chocolate Hazelnut Spread (@basedIITian) December 5, 2021
8 yo me in front of cctv camera in malls#surya 😂😂 #spidercam #INDvzNZ pic.twitter.com/EQ5gP6d4nS

— Abhishek (@arpatil_) December 5, 2021
In England : Rain stops play

In India : Spidercam stops play pic.twitter.com/GRdPhFYjZm

— Umakant (@Umakant_27) December 5, 2021