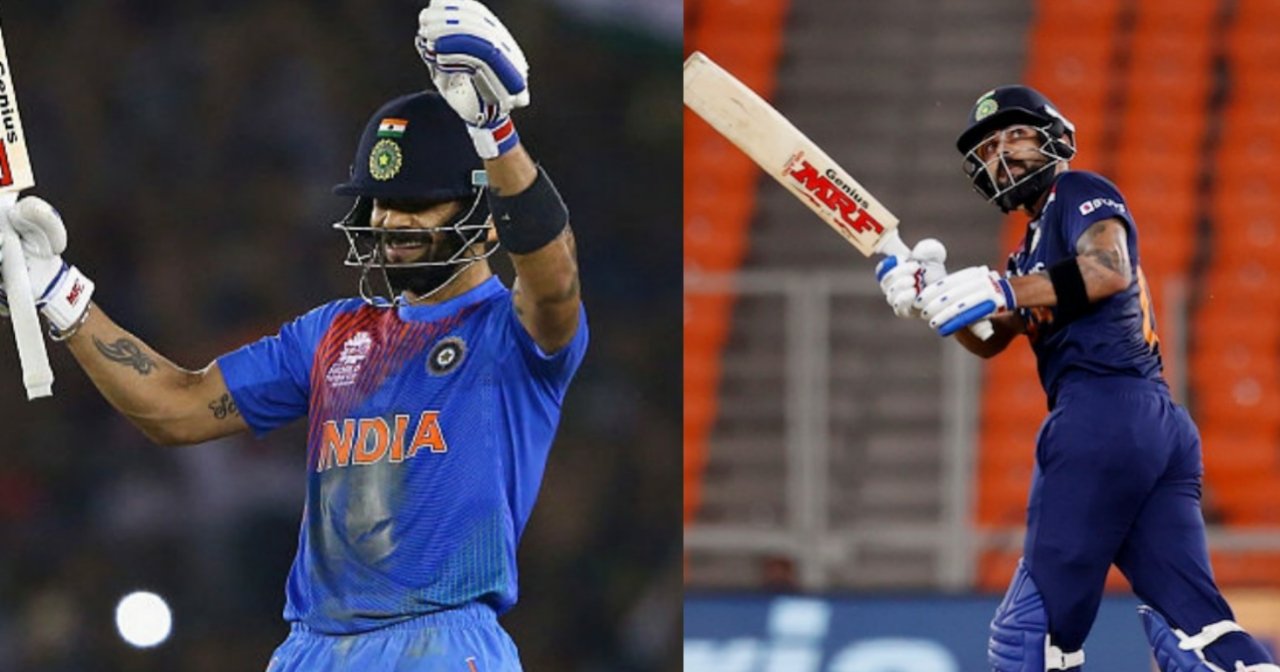 Virat Kohli roared back to form with back-to-back half-centuries in the ongoing T20I series between India and England. Not only that, he reclaimed his record of being the only batsman in the world to have a 50+ batting average in each format of International Cricket. In his most recent outing on the field, he played one of his best T20I innings to guide India to a fighting total. In this article, we will look back at five such innings of Virat Kohli.
Deemed by many cricketing legends as the Greatest Batsman of All Time, Virat Kohli has now ruled over international cricket for over a decade. The main ingredient to his success is his ability to adapt his game according to the situation or format. That's why he has established himself as a multi-format batsman. Even in T20Is, where others depend on sheer power to pace-up their innings, Kohli does it effortlessly using his textbook cricketing shots.
Kohli has too many magnificent T20I innings under his portfolio now. But, there are a few that stand-out more than the others. Here is a list of the top five among them:
5. 72*(44) v/s South Africa, Dhaka, World T20 2014 Semi-final:
Stakes were high as it was the Semi-final of the World T20 2014, and the fact that it was a high-scoring chase against one of the best bowling attacks of that time makes it even more special. Batting first, South Africa put 172 on board with the help of Faf du Plessis's 58 and Duminy's 45. India lost their first wicket on 39 as Virat Kohli walked in to bat.
He put up small partnerships with Rahane, Yuvraj, and Raina to pull India closer to victory. Then, with a helping-hand of MS Dhoni on the other end, guided India to victory. During the chase, the required run-rate had gotten as far as 10.44, with remaining overs of bowlers like Dale Steyn
,
Imran Tahir
, and Wayne Parnell. But, Kohli outplayed them all and ended with an epic celebration at the end. To remind you all, Kohli wasn't the superstar of the game then. He was just another prodigal youngster rising through the cricketing world.
4. 70*(29) v/s West Indies, Mumbai, West Indies Tour of India 2019:
Ruthless can be the exact word to describe this innings of King Kohli. The world witnessed how dangerous Kohli can be when tamed in the third T20I against West Indies. After 94* in the first T20I, Kohli continued his aggression towards Kesrick Williams and other West Indies bowlers, scoring an unbeaten 70 off just 29 deliveries.
He smacked seven sixes and four fours in this carnage of an innings and helped India post their third-highest total of 240 in T20Is. It was one of the fastest innings of Virat Kohli's T20I career. This match turned out to be a nightmare for West Indies as three Indian batsmen(Rohit, Rahul, and Virat) scored half-centuries in a single T20 innings.
3. 94*(50) v/s West Indies, Hyderabad, West Indies Tour of India 2019:
Another brilliant chase in the book of Chase Master and Kohli's highest individual score of 94 not out came in the first T20I against West Indies in 2019. Kohli didn't start well in this innings as he didn't seem in control of his shots. But thanks to a shoulder brush by Kesrick Williams while taking a quick single, Kohli went into aggression mode. And, we know what happens when he wears that anger on his face.
Kohli went berserk and kept sending the Caribbean bowlers for boundaries. With each shot, he got more pumped, and then came the iconic six, after which he gave Kesrick Williams a taste of his own checklist send-off. Virat's unbeaten 94, Rahul's half-century, and a cameo by Rishabh Pant made this humongous chase of 208 seem easy. India wrapped this match up with eight balls remaining.
2. 77*(46) v/s England, Ahmedabad, England Tour of India 2021:
'On the darkest nights, the brightest stars shine.' This inning justified this quote in every single way. The skipper guided India from 24/3 at the end of the powerplay to 156/6 in 20 overs. India may have lost this match but, Virat Kohli coming after a rough patch and carrying India from a place where 130 looked difficult to a fighting total of 156, shut every one of his critics. Kohli defied all odds, including a surface offering decent bounce, run-rate pressure, wickets falling from the other end, and against an incredible bowling effort by England
pacers.
He went from 28 off 29 deliveries to 77 from 46, scoring 50 off the last 18 balls he faced. Most of his shots in this innings were textbook cricketing shots. He smacked eight fours and four sixes in this innings. Unfortunately, India lost this match by eight wickets.
1. 82*(51) v/s Australia, Chandigarh, World T20 2016:
No doubt that this inning tops the list. The final game of the group stage and whoever won would have booked a semi-final berth. And, Virat Kohli snatched that spot from the jaws of the Kangaroos for India. With 161 to get, India lost three early wickets on a score of 50 at the end of eight overs. To add to India's troubles, Yuvraj twisted his left foot on the third ball he faced. So, quick singles and doubles went out of the equation.
Amid all this, Kohli took the responsibility of guiding India home in what seemed to be an impossible chase. It was one of those innings where he played the field with his cricketing shots. In this innings of 82, Virat sent only two over the rope. He focused his game around targeting the gaps, hitting nine fours in the process. India's World T20 campaign revolved mostly around Kohli as he carried the team through every group stage match. India may not have won the world cup in 2016, but Kohli proved why he is the best across all formats.