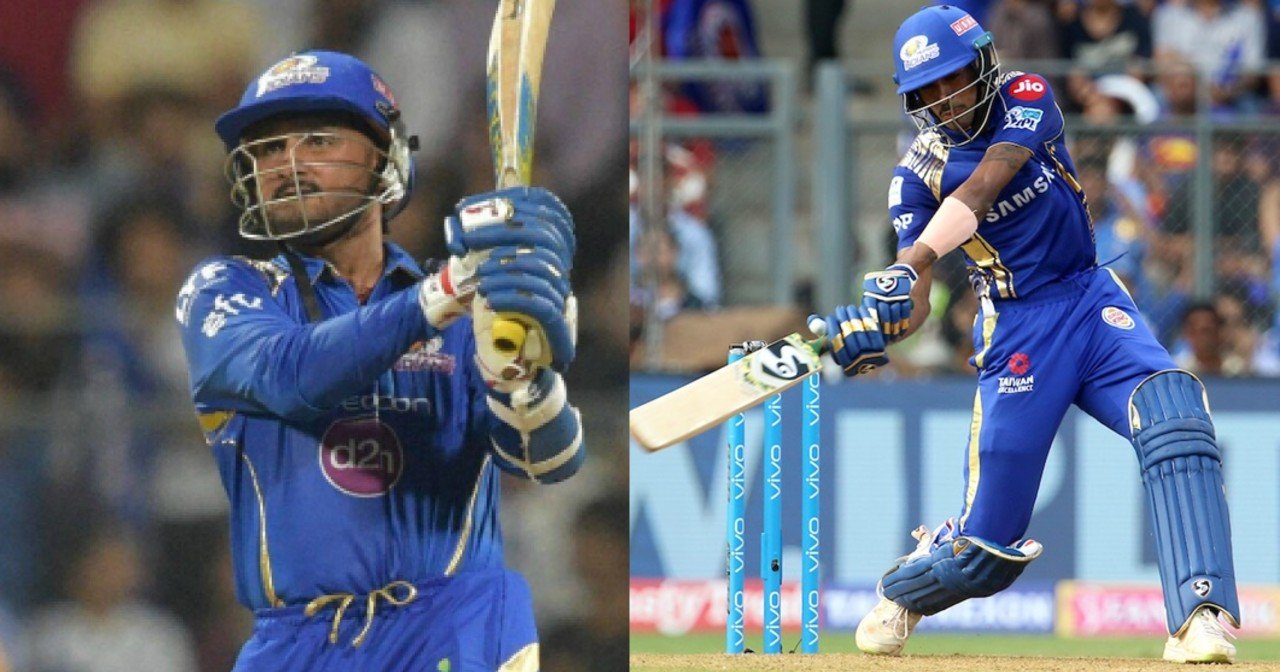 Mumbai Indians is not just the most successful franchise in the history of the IPL, but it's also the most exciting franchise because of the brand of cricket that they play. The big-hitting potential that Mumbai has in their squad right from the top to the middle and down the order as well, it makes for some exhilarating display of stroke-play whenever MI is out there in the middle.
Here are the 5 fastest fifty scored by the Mumbai Indians batsman over the years –
#1 Ishan Kishan (16 balls)
Ishan Kishan slammed the fastest fifty ever for the Mumbai Indians as he got to the 50-run mark in only 16 balls in a must win game against Sunrisers Hyderabad in IPL 2021. Mumbai Indians actually needed to win this game by a massive margin of 170 runs, so they needed to go after every ball. Ishan opened the batting and did exactly what the team needed as he smashed the ball to all corners of the ground from the word go straightaway.
Ishan's 16-ball 50 in this game was also the third fastest fifty in the history of the Indian Premier League.
#2 Hardik Pandya (17 balls)
It was only last year that Hardik Pandya scored a 17-ball fifty against KKR and that too playing away at Eden Gardens. Mumbai was chasing a huge target in that game and Pandya didn't really have any option, but to go after the bowling from the first ball he faced.
Despite the fact that Pandya came out to bat in a very tricky situation, he dragged Mumbai very close to victory and at one point of time, it seemed as if he would drag them over the line, but Mumbai eventually couldn't win that game even after Pandya's sparkling fifty.
#3 Kieron Pollard (17 balls)
Kieron Pollard's name in this list won't surprise anyone as he is one of the best in the world when it comes to striking the ball long and clean. However, Pollard's fastest fifty for Mumbai came 3 years back in 2016 and incidentally, the opposition on this occasion was KKR again.
KKR batted first and posted 174 on the board which was chased down quite easily by Mumbai courtesy Pollard's knock of 51 which came off just 17 balls with 2 fours and 6 sixes.
#4 Ishan Kishan (17 balls)
This was a special knock by the young wicket-keeper batsman Ishan Kishan a couple of years ago and he also had a go at the KKR attack out of all teams. It was a match at Eden Gardens and Ishan took Kuldeep Yadav to the cleaners, smacking him all around the ground to complete his half-century in just 17 balls.
Ishan was eventually dismissed after scoring 62 runs off 21 balls and Mumbai ended up winning the game by 102 runs.
#5 Harbhajan Singh (19 balls)
Nobody would be expecting Harbhajan Singh's name here as he is more of a specialist bowler, but in a game against Kings XI Punjab in IPL 2015, Harbhajan came to the party with the bat and scored a 19-ball half century while Mumbai was in the pursuit of a target of 178 runs.
However, despite Harbhajan's heroic efforts, Mumbai lost that game by 18 runs as none of the specialist batsmen stepped up to the plate. Harbhajan was dismissed by Anureet Singh at the score of 64 off 24 balls.
#6 Kieron Pollard (20 balls)
Kieron Pollard features for the second time in this list with a 20-ball fifty against Sunrisers Hyderabad in IPL 2013. This was a knock which came in a very stiff chase, but Pollard's knock ensured Mumbai chased down the target of 179 with three balls in hand as the West Indies stalwart finished the game with a six.
In his knock of 66 off just 27 balls, Pollard hit a couple of fours and slammed 8 massive sixes.