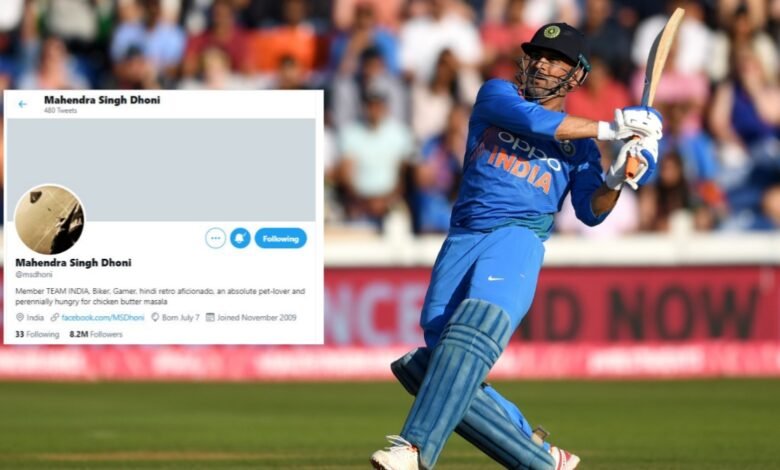 MS Dhoni's Twitter Account is no longer official: The sporting world has been in the midst of some severe doldrums since last night. There has been no dearth of news and now another one has been added to the already dripping roster that will make you rack your brains harder than you could have imagined.
After the arrival of jack Grealish to Manchester City and the farewell of Lionel Messi from Barcelona, another hot news that has struck the globe is that former Indian captain, Mahendra Singh Dhoni's Twitter account has lost its blue tick.
It is a surprising development and probable reasons for the same are still not known. Dhoni joined Twitter in November 2009 and has more than 8.2 million followers, making him one of the most popular personalities on Twitter in India.
Though any official confirmation is still to arrive, socially indulgent fans believe that is the reticence of the account since January of this year that has led to this drastic move. Ideally, going by the social media norms, an account must have regular posts in order to keep its shining bell and whistles.
However, Dhoni away from Twitter for a while has made the preconceived algorithm question itself and that may have resulted in another jaw-dropping event in recent times.
MS Dhoni's overwhelming legacy:
In his playing days, Dhoni established a dynasty so massive that it seems downright enviable. As a player, he was a rock-solid striker of the ball and then eventually transitioned himself to one of the best finishers of the world after being handed over the captaincy.
His trophy cabinet boasts of the 2007 T20 World Cup, 2011 Cricket World Cup and the ICC Champions Trophy. These are just a few of the massive collections that the big man has notched over the period of years.
Keeping aside the numbers that underline his burning brilliance, Dhoni's presence itself is an absolute treat for his fans. The way he held his nerves under pressure and converted defeats into victories, they were absolutely nothing short of miracles.