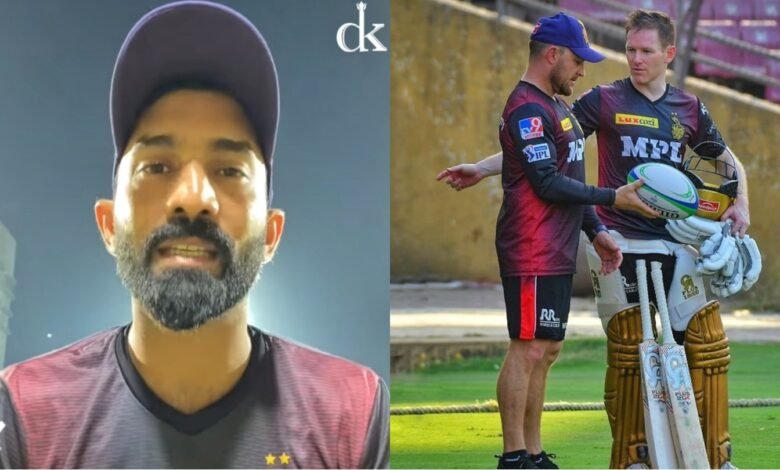 Kolkata Knight Riders had a sudden turn of events during the last year's IPL edition. Their main captain Dinesh Karthik decided to drop him from the captaincy position all of a sudden. Following some reasons, Karthik took himself away from the captaincy and handed it to Eoin Morgan.
During the recent interview, the Indian Batsman answered what was going through in his mind during that phase. He stated that Morgan was a bit hesitant in taking the job in the first place.
Karthik added this during an episode of the podcast '22 yarns with Gaurav Kapur that, "We were aware of it. I think a lot of credit should be given to KKR because they handled it very well. They understood my situation. I was the problem, nobody else. From the moment, I'm not very sure, then they're like 'fine, there's Morgan'.
When Karthik decided this, KKR was at 4th position on the points table. The side had secured four wins out of 7 games at that moment. The wicketkeeper-batsman took this step for some personal reasons. The franchise and the management had no involvement in this change.
'Are you crazy?' Morgan stated this after hearing Dinesh Karthik
The English captain was shocked to see this move from their team's main man. He stated, 'are you crazy? Why would you do this? I don't understand what you're trying to do.'
Currently doing the commentary in the UK, Dinesh Karthik has led the KKR side since 2018. The Kolkata side ended that season at 3rd position with good performances from the players.
However, now with a lack of clarity on foreign players' availability for Phase 2 of IPL 2021, KKR might go back to DK for the leadership role. In Morgan's absence, he can be the perfect man to take his side over the victory line.