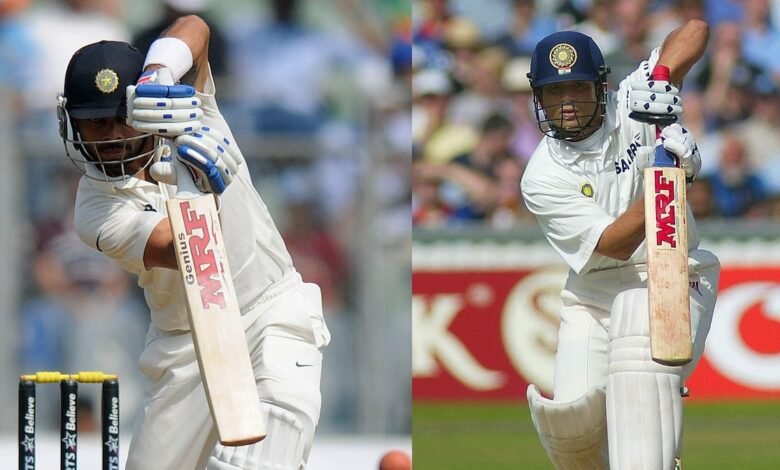 Sachin Tendulkar and Virat Kohli are two of the best batsmen to have graced the sport and India was fortunate to have both the players at its end. The two shattered and created countless records while the world watched in awe.
There are a few signature strokes that both of them are known for and most of them actually match with each other. Being candid, they aren't something out of the box but very basic strokes only performed with tremendous beauty and perfection.
A Twitter user created a thread of all those magnificent shots that these two have played over the years, filling the audience with happiness and awe.
The shots that Sachin and Kohli perfected over the ages
The first picture in the thread was the duo playing the iconic cover drive. Both the players bringing their backfoot down at a perfect angle and balancing the front foot with clinical precision executed one of the beautiful strokes in cricket with pomp and vigour.
Few Coincidence pictures of Virat Kohli and Sachin Tendulkar. ✨@imVkohli @sachin_rt

♦️ A Thread ♦️ pic.twitter.com/B4Yq0IlfUM

— S H A R I F (@sharifS10187) August 22, 2021
The second picture in the thread showed how Tendulkar and Kohli gloriously hammered down that straight drive, sending the ball back in the exact same trajectory from which it was hurled at them.
— S H A R I F (@sharifS10187) August 22, 2021
The third snap was a pull shot that wasn't the signature stroke but a loftier one with the ball drifting down the legside and both twisting themselves to hammer it to the ropes with perfect footwork and a balanced body.
— S H A R I F (@sharifS10187) August 22, 2021
The fourth one will resonate with everyone because it was cheeky, arrogant and was of symbolic importance because Tendulkar derided Shoaib Akhtar with that outrageous and impudent flick, dotingly known as an uppercut. Though Kohli doesn't play this stroke much, however, in the rare occasions he has attempted this, he has been exceptionally successful.
— S H A R I F (@sharifS10187) August 22, 2021
The fifth picture in the thread is one of the toughest shots for a batsman to pull off because of its highly demanding nature. The stroke needs you to be perfectly balanced, angled and precise because playing that inside-out loft is not everyone's cup of tea.
— S H A R I F (@sharifS10187) August 22, 2021
Tendulkar was known for his sweeping abilities with the bat and no one played better sweep shots than the little master himself. Kohli emulated him well and carved a few of his own with his extraordinary magnificence.
— S H A R I F (@sharifS10187) August 22, 2021