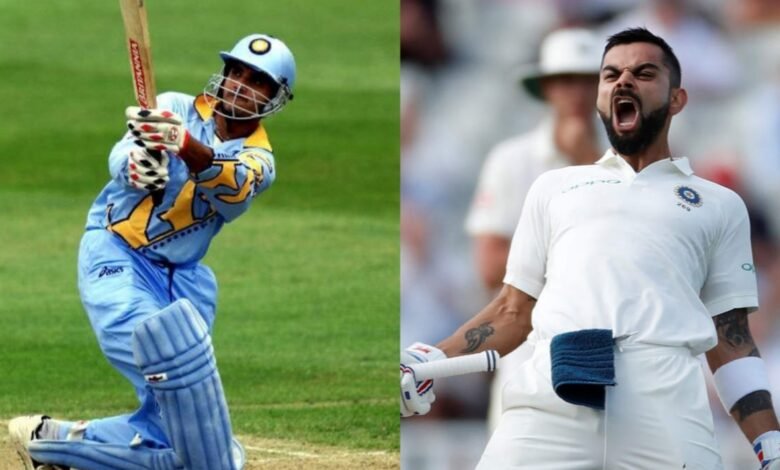 India has historically had a tough time in overseas conditions. The batsmen used to struggle with the swinging conditions which benefit the English fast bowlers. Thus, over time, naturally, any batsman who performed well in overseas conditions became a huge asset for the team. India has always produced phenomenal batsmen. In the modern era, players like Kohli, Rohit Sharma, etc are showing more ease batting overseas. With the World Test Championship, there is a need for India to have players who can score well in England. So today we will take a look at 7 Indians to score an ODI and Test century in England.
#1. Sachin Tendulkar
Would this even be a list about batting records without mentioning arguably the greatest of all time? Sachin Tendulkar is considered the 'God of Cricket' in India. He is most famous for his incredible record of a hundred centuries, an incredible feat in itself.
Out of those 100 centuries, 7 were scored in England. Tendulkar hit 4 centuries in Tests and 3 centuries in One Day Internationals. He also almost scored a double century in Tests in England, registering a high score of 193. His highest score in ODIs was 140*.
#2. Kapil Dev
Kapil Dev is the legendary former Indian captain. He was a big part of the 1983 World Cup triumph of India. Dev hit 9 centuries in his career. As he played down the order, this feat is even more impressive. He is the first person on this list to hit an ODI and Test century in England.
Dev hit a ton each in Tests as well as ODIs in England. His legendary knock of 175* against Zimbabwe established Dev in the history books of cricket. Dev's highest score in Tests in England is 110.
#3. Sourav Ganguly
Sourav Ganguly is one of the most successful Indian captains of all time. Fondly known as 'Dada', Ganguly was a prolific all-rounder. He scored 38 centuries in his illustrious career. Out of those 38 centuries, 4 were hit by him in England.
Ganguly hit 3 tons in Test cricket, with the highest score being 136. In the ODIs, he scored one hundred in the 1999 World Cup. Ganguly hit 183 runs in just 158 balls. Thus, he was aptly named the Man of the Match when India beat Sri Lanka by 157 runs.
#4. Rahul Dravid
Rahul Dravid is one of the most iconic cricketers in the sport's history. Nicknamed as 'The Wall', Dravid became a cornerstone for Indian cricket. In his phenomenal career, Dravid hit 48 hundreds and 146 half-centuries in his career. So it was highly probable that he would feature on this list.
In England, Dravid had a great record in Tests as well as ODIs. He is the fourth to feature in the list of players who have hit an ODI and Test century in England. Dravid hit 2 ODI hundreds and 6 Test hundreds in England and thus makes his name into this list.
#5. Virat Kohli
Virat Kohli led the resurgence of India overseas, first under MS Dhoni, and then as the captain himself. The Indian skipper has scored a combined 70 centuries in ODIs and Tests. He has been extremely successful overseas too, scoring hundreds in England as well as Australia.
Kohli has registered 2 tons in Tests and 1 hundred in ODIs in England. Kohli has scored 2043 runs in England. His highest score in Tests in 149 and 107 in ODIs. With the World Test Championship final coming up, it will be vital for Kohli to be on the top of his game.
#6. Ajinkya Rahane
Ajinkya Rahane has over the years established himself as a dependable batsman for when India plays in overseas conditions, He also recently led a depleted India to a historic Test win in Australia. Rahane is a talented batsman who can adapt to the conditions easily, and steady the ship for the team.
He has scored a century each in ODIs and Tests in England. Rahane has also hit 5 half centuries in the country.
#7. KL Rahul
KL Rahul is quickly blossoming into India's brightest prospects. The Karnataka batsman has established himself as a dependable batsman in all conditions. The IPL also showed that he can be a great leader. With his name announced for the WTC final, this entry provides justification for his selection.
Rahul has scored a single century in ODIs as well as Test cricket. He has a high score of 149 in Tests and 111 in One Day Internationals. Rahul's selection is subject to fitness clearance, but there is no doubt that he will be a great pick for the team.