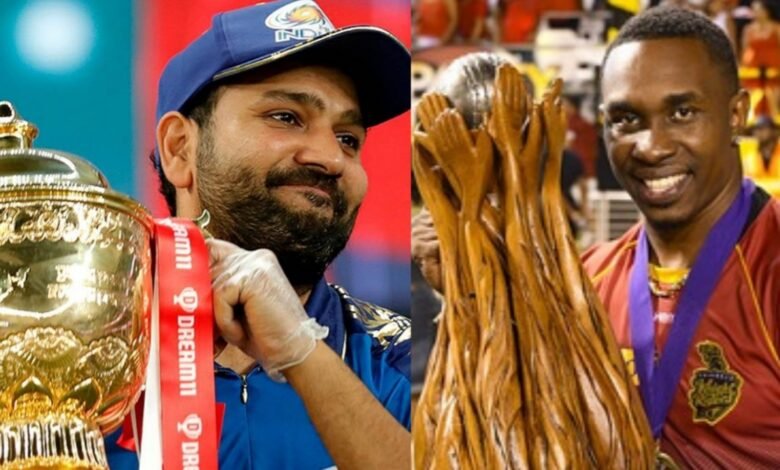 It is actually a task for a captain to lead a team in a long tournament and then motivate the members to give their best in the summit clash. Quality leadership skills and tactical competency is required to achieve this. However, there have been a few captains who have done this more than once. In this article, we take a look at six famous captains who have won a T20 league more than once.
Note: Only popular and highly followed global T20 leagues have been considered while compiling this list.
1) Rohit Sharma – Indian Premier League (5 Trophies)
Trophies won as a captain in IPL – Mumbai Indians (2013,2015,2017,2019 and 2020)
Rohit Sharma is arguably the most renowned captain in the history of franchise-based T20 leagues so far. The right-handed opener earned his captaincy as a 26-year-old in 2013 when Ricky Ponting decided to step down from the role. Despite the presence of other senior cricketers such as Sachin Tendulkar and Harbhajan Singh in the team, the MI management trusted Rohit, and the player did not take long to deliver.
While he won the trophy in 2013, he then followed it up with championships every alternate year. In 2020, Rohit helped Mumbai Indians become only the second IPL team to defend its title. While in every final Rohit delivered a captaincy masterclass, in IPL 2015, he got a fifty of 26 balls in the summit clash, which earned him the Player of the Match award.
2) MS Dhoni – Indian Premier League (3 Trophies)
Trophies won as a captain in IPL – Chennai Super Kings (2010,2011 and 2018)
Limited-overs captaincy got a new shape in this generation thanks to MS Dhoni. Hence, it is of no surprise that he has won a T20 league more than once. Known for his cutting-edge tactics and shrewd decision making, MSD defeated Mumbai, RCB and SRH in the finals of IPL 2010, 2011 and 2018 respectively.
While others were honoured with the awards, MSD played two quick cameos, both of 22 runs in the finals of IPL 2010 and 2011, which were very crucial. The field setting to get Kieron Pollard out in the final of IPL 2010 was straight from the top draw.
3) Dwayne Bravo – Caribbean Premier League (3 Trophies)
Trophies won as a captain in CPL – Trinidad and Tobago Red Steel (2015), Trinbago Knight Riders (2017 and 2018)
With 965 runs and 106 wickets in 79 CPL games, Dwayne Bravo is one of the most successful players in the history of the competition. He also has three titles as a captain, which further adorns his illustrious career as a CPL player.
All three wins for DJ Bravo have come while representing Trinidad and Tobago, although the last two victories came after the franchise was taken over by the owners of KKR. He was part of the winning squad in 2020, as well, but Pollard was the team's skipper.
4) Gautam Gambhir – Indian Premier League (2 Trophies)
Trophies won as a captain in IPL – Kolkata Knight Riders (2012 and 2014)
KKR needed a leader to guide them past the controversial era of the first three seasons. They believed in Gautam Gambhir and paid an exorbitant price of $2.4 million to hire his services in 2011. A project was assigned to him, and the Delhi man repaid his faith, not once but twice.
The southpaw did not have a team of superstars but utilized the youngsters judiciously to win trophies in 2012 and 2014. Interestingly, it was two young Indian batsmen – Manvinder Bisla and Manish Pandey, who stepped up in the final encounter under Gambhir's leadership.
5) Kieron Pollard- Caribbean Premier League (2 Trophies)
Trophies won as a captain in CPL – Barbados Tridents (2014) and Trinbago Knight Riders (2020)
Kieron Pollard, a veteran in the T20 format, has done well as a skipper in the CPL. The current captain of the West Indian squad, Pollard has also led Mumbai Indians in the IPL.
While Pollard's first victory as a captain happed in 2014, he had to wait for six years to win the next one. In the recent season, Pollard picked up a four-wicket haul in the final to help his side win the game.
6) Moises Henriques – Big Bash League (2 Trophies)
Trophies won as a captain in BBL – Sydney Sixers (2019 and 2020)
One of the underrated captains in domestic T20 competitions is Moises Henriques. The Aussie has also won a T20 league more than once, both of which were in succession in seasons 2019/20 and 2020/21.
A consistent performer in BBL, Henriques has scored 1900 runs and collected 18 wickets in 87 games. While he was also part of the Sydney outfit that won BBL 1, he has been a successful leader in the competition off-late.