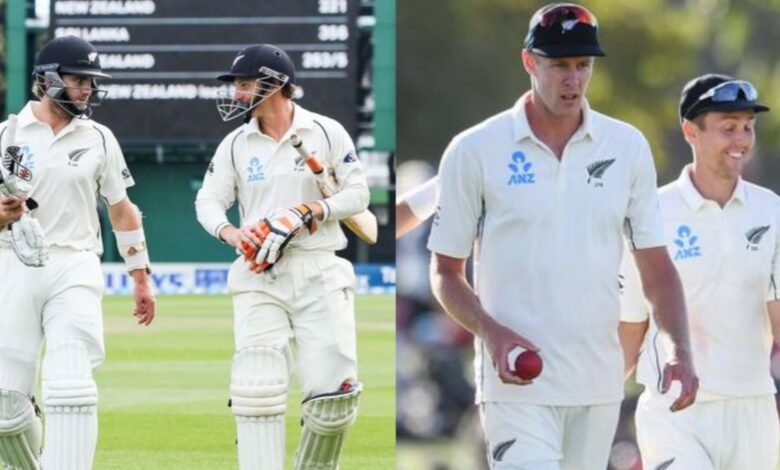 NZ playing XI for the WTC Final: As we are just 20 days away from the first of its kind, a thrilling, rollicking and glittering grand finale of the enduring World Test Championship that started tip-toeing its way into recognition from 2019, speculations are absolutely searing about the playing eleven of both the contenders.
We Indians have exhausted our permutations and combinations by now about our strongest playing eleven and believe it or not but is one of the most talked-about stuff in the Indian cricketing modality at the moment.
However, our insight about our counterparts isn't pretty deep and that is why this story will be about the Black Caps and the strongest playing eleven that they can field in the World Test Championship final. These are our fabled picks for New Zealand playing eleven as the World will remain witness to what is deemed as a skull-crushing finale.
New Zealand Playing XI:
Openers:
Tom Latham and Tom Blundell
Tom Latham becomes the default choice for opening the innings for the Black Caps given his showdown off late. In the last ten matches that he has played in all forms of competitions, he has wrecked three blistering tons. He has managed to amass 345 runs from 12 innings against India that featured the highest score of 74 at a decent average of 31.16. His average in India is a slightly better 32.33. Now comes the game-changer and that is his average in England where the vie of supremacy will be duked out. He has managed to strike 146 runs from 4 innings at a decent average of 36.50 with the best score of 84.
Tom Blundell hasn't been a part of any form of competitive cricket for the last two months but his stint in the Sheffield Shield will stoke a lot of hopes for Williamson and company. The last two games that he played for Wellington against Auckland and Northern District saw him hammering two centuries. He has so far got a decent build-up until now that has seen him scoring sublime figures against Otago and Northern Districts earlier. His exploits in Australia have so far been phenomenal that reads 172 runs from 4 innings with a century bedecking the same. Though the surface will do a lot more talking, Blundell can prove to be something very crucial to the side given his recent form.
Middle Order:
Kane Williamson, Ross Taylor, Daryl Mitchell, Henry Nicholls, BJ Watling
Kane Williamson's recent Test exploits have been noteworthy enough to already propel him to the pedestal of being the Test batter of the current era. In India's tour of New Zealand, he crafted a brilliant 89 that was followed by a stellar 251 against West Indies. He then drummed up another couple of miraculous performances that saw him crafting 129 against Pakistan and a brilliant 238 in the second Test match. Now to add to such impressive numbers, his average against India has been a brilliant 36.40 with a staggering 728 runs from 20 innings. He has scored 2 centuries and 4 half-centuries against India that also includes his best of 131. In England, however, his average drops to 30.87 with just 247 runs from 8 innings.
Despite the fact, Ross Taylor is to conjure something reckoning in the last couple of years, yet his 70 against Pakistan can very well be the cue to his comeback. His average against India is a decent 33.83 with 812 runs from 25 innings. He has also scored 3 centuries and 1 fifty against India. He has an intimidating average in England. It reads a wholesome 40.23 with a brilliant 523 runs from 14 innings. He even crafted an unbeaten 154 in England that will make him the big man to watch out for.
This will be Daryl Mitchell's first Test outside New Zealand and the newcomer to the Kiwi international side will have to dig deep to continue his impressive form. He currently averages at a staggering 75.33 with 226 runs from 4 innings. He has also conjured a phenomenal century and a half-century to announce his brilliance.
Henry Nicholls has displayed stellar fluidity in the recent past that will make him a heady pick for the Black Caps. In the last three matches that he has played, he has managed to hammer two centuries and one half-century that wrecked Pakistan and West Indies. He was going through a woeful patch of form before he could finally turn around the tide in his favour. However, his numbers against India aren't something that he will be particularly proud of with his average ranging at 15.25. He has managed to garner 61 runs from 5 innings with 24 being his highest.
BJ Watling will be donning on the gloves for New Zealand in this massive encounter. However, his batting form has taken a sharp dip in the Sheffield Shield. His last half-century came in February against Central District. His showdown against India in 2020 wasn't particularly impressive either. He could only manage 14 runs from the two innings that he played. His overall average against India is 22.41 with 269 runs from 14 innings. Out of these 269 runs, he has one century that witnessed him stitching a sedulous 124 with the remaining runs coming from the next 13 innings. However, his average in England skyrockets to a blistering 55.57 with 778 runs from 15 innings.
Bowlers:
Kyle Jamieson, Tim Southee, Trent Boult, Mitchell Santner
At 6'8, Jamieson is an intimidating moniker who has been making life hell for batters. His bowling average in Test cricket is an astonishing 13.27. His bowling figures in Test cricket read 36 wickets from 6 innings. Now to make it sound exactly in the menacing way it should, he has claimed 4 fivers and 1 four-wicket haul in the longest format of the sport from only 6 games. He also boasts of a staggering batting average of 56.50 with 226 runs from 6 innings. A complete package for the Kiwis, Kyle Jamieson can very well be the destructor-in-chief.
Tim Southee has been spearheading the Black Caps bowling unit for a decade now and his powerful presence in the bowling line-up will be deemed as extremely handy, given the swinging surface of Ageas Bowl. He has wreaked havoc against India with 39 wickets from 15 innings at a decent bowling average of 24.46. He toils very hard in England as his bowling average hopped up to 34.30. However, he still managed to claim 20 scalps there. He is a decent batter too and can provide some extra sting to the tail.
Trent Boult's reckoning figures are more than enough to send chills down India's spine given his 281 wickets from 135 wickets at a decent bowling average of 28.02. The man has 15 four-wicket hauls which are compounded by 8 fivers. He has claimed 36 wickets against India but becomes a nightmare in England as his average goes down to 23.14.
Given the intensity of the contest, Santner may pip Ajaz Patel in the long run for this one-off Test. He is an ordinary customer in the bowling echelons of New Zealand with only 41 wickets from 23 fixtures. However, his inclusion in the squad will be adding a variety to the otherwise fast attack of the Kiwis.