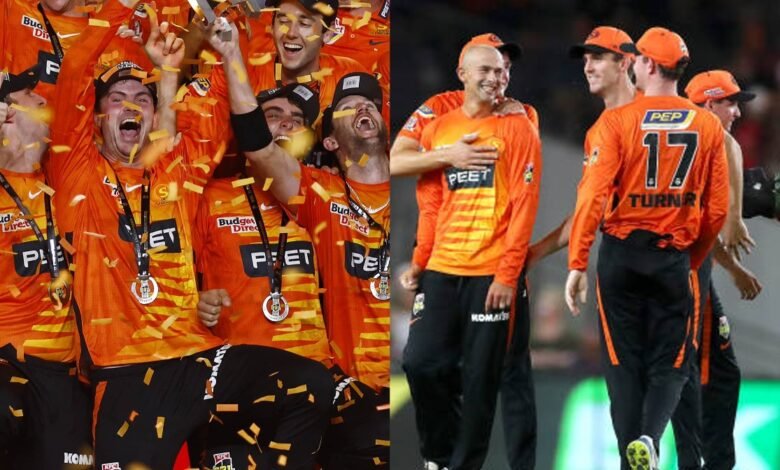 Perth Scorchers beat the Sydney Sixers in the final of Big Bash League (BBL) today to win their 4th title and strengthen their position further as the most successful team of the competition. No team ever has won as many BBL titles as the Scorchers, and they well and truly lived up to their reputation in today's final as well.
Sydney Sixers didn't have their strongest team available in the competition because of the COVID and they went into the final as underdogs. However the way the Sixers had played in their previous game, it was expected that they would be able to stretch the Scorchers to their limits and it's not going to be a walk in the park for the Scorchers. But, the way it turned out, it was a completely one-sided contest.
Perth Scorchers batted first and put on a substantial score of more than 170 on the board, despite the fact that their premier batsman Mitchell Marsh didn't fire. The English middle-order batsman Laurie Evans played some fantastic shots all around the ground and it was because of his knock of 70 odd that the Scorchers were able to get to a score, which was probably a little bit overpar.
Sydney, in response, never even looked like getting anywhere close to the total. The bowling attack of the Scorchers had a decent bit of international experience. They had the likes of Jhye Richardson who is now one of Australia's top 5 bowlers in test cricket and Andrew Tye who has not just played a lot of white ball international cricket, but has also played a lot in the IPL as well. Both these bowlers bowled superbly under lights.
Perth Scorchers were overwhelmingly favorites to win the final
The Sixers were bundled out for less than 100 and it ended up as a huge victory for the Scorchers who were overwhelmingly favorites for the trophy anyway. This triumph has, however, been a bit more special for the Scorchers as they didn't get to play on their home turf because of the strict COVID guidelines in Western Australia.
Despite playing mostly away during the course of their campaign, the Scorchers managed to maintain the standards of their performance and came out triumphant again, 4th time in BBL history.
The fans on Twitter likened the Scorchers to Mumbai Indians who are the most successful team in the biggest T20 league in the world, the IPL. Here is how Twitter reacted after the Perth Scorchers won their 4th BBL title today –
2019 IPL:

Mumbai Indians defeated CSK all the 4 times to win their 4th title.

Big Bash League 2021/22:

Perth Scorchers defeated Sydney Sixers all the 4 times to win their 4th title.

— Mufaddal Vohra (@mufaddal_vohra) January 28, 2022
Perth Scorchers & Sydney Sixers in BBL are moving like Mumbai Indians & Chennai Super Kings in IPL 😐

— Sohom (@AwaaraHoon) January 28, 2022
Perth Scorchers 🤝 Mumbai Indians, dominating their respective leagues 😎

— Viggi.17 (@VighneshMenon) January 28, 2022
Perth scorchers 🤝 Mumbai Indians owning their rivals https://t.co/1D30Y7hcos

— SAI (@Goatnaldo45) January 28, 2022
Perth Scorchers the winner of(Season 2021-22) Big bash League.#BBL11

— Kunal Bhowmik (@KunalBhowmik7) January 28, 2022
I initially wanted Sydney Sixers to win because of Brett Lee as he is my favorite cricketer and he used to play for Sixers, but Moises messed up with Hasnain and that pissed me off. Now I am rooting for Perth Scorchers.#BBL #PSvSS

— Omar Mahmood (@OMahmood20) January 28, 2022
Laurie Evans Won the Man Of The Match Award in the BBL Final match. #BBL11 pic.twitter.com/UlVjlwSXcd

— CricketMAN2 (@man4_cricket) January 28, 2022
CHAMPIONS!! 🏆🔥 @ScorchersBBL #BBLFinal pic.twitter.com/HtrppUnx7m

— Jess Huddy (@jesshuddy_) January 28, 2022
Perth win the Final in Melbourne 125 days after Melbourne win the Final in Perth

— Swamp (@sirswampthing) January 28, 2022
Jhye Richardson's nose and mouth is bleeding in Final match of BBL. Commitment and Dedication for the game. #BBL #BBLFinal #BBL2021 pic.twitter.com/oaW8d80iEz

— The Global Sports (@TheGlobalSp0rts) January 28, 2022