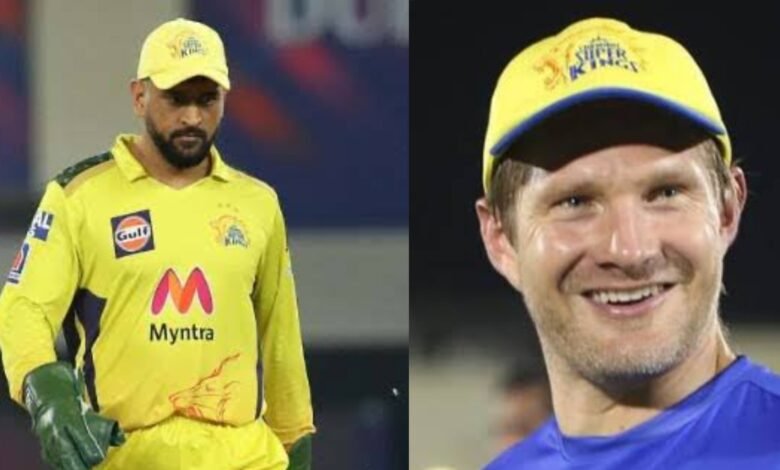 The former CSK opener and the current Delhi Capitals assistant coach, Shane Watson, have revealed that MS Dhoni might take up either the coaching job or the director of cricket's position at CSK once he retires from the game as a player.
In the last couple of years, when there have been rumors all around about Dhoni's possible retirement, he has been asked twice by the television commentator Danny Morrison whether he would be seen in yellow next year or the year after that.
Both times, Dhoni has replied that people can always see him in yellow, but he is not sure whether the yellow jersey that he will wear in the future will be the playing jersey or some other jersey.
Shane Watson spent a lot of time with Dhoni when he was at CSK
It's hard to decipher what Dhoni exactly means by that and when Shane Watson was asked about it on the podcast The Grade Cricketer where he regularly features, he said he has had a lot of chats with Dhoni and he believes Dhoni wants to get into coaching after he is done playing.
However, Watson is not sure whether Dhoni becomes the head coach at CSK or becomes the director of cricket. With CSK already having a settled head coach in Stephen Fleming for more than a decade who has produced results as well, it's very much possible that Dhoni might actually take up the position of director of cricket after his retirement.
Shane Watson (in Grade Cricketer) said "When Dhoni said about 'Different yellow jersey' – he is probably hinting about coaching shirt – we had lots of chats, that is the one thing he want to get in, whether it's coaching or director of cricket – that is what we want to know".

— Johns. (@CricCrazyJohns) May 7, 2022
It is not certain yet when Dhoni will actually announce his retirement as a player. When CSK won the IPL title last year and there was a felicitation event, the CSK skipper had said that he would play his last match for CSK at Chepauk, whether that happens this year or 5 years later.
Going by that statement, it can be assumed that Dhoni might play one more season for CSK before he retires and takes up another role at the franchise.