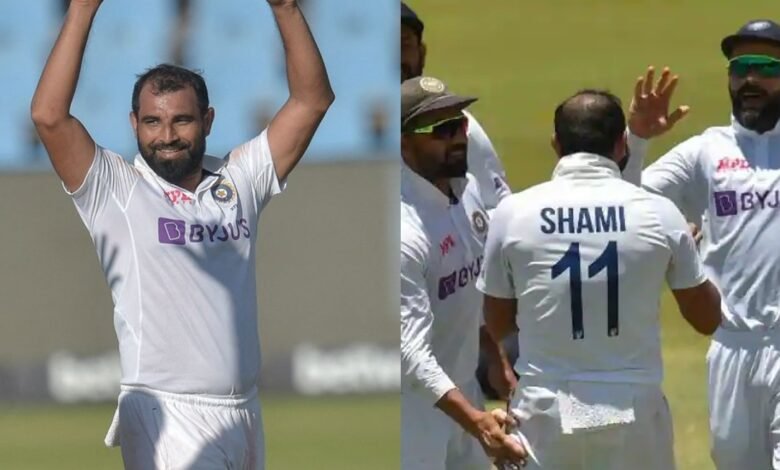 Indian captain Virat Kohli has called Mohammed Shami one of the top 3 bowlers in the world after Shami won India the Centurion test match against South Africa with fantastic bowling performance in both innings. While Shami registered a 5-wicket haul to his name in the first innings, he added 3 more wickets to it in the second innings and finished with the match figures of 8 for 107.
According to Virat Kohli, what makes Shami so impressive is the fact that he has got strong wrists and a very upright seam position, and he also hits the length on a regular basis. Because of the fact that he can move the ball both ways with his seam position and he bowls in an area where the batsmen can't really leave the ball consistently, he puts the batsmen in trouble.
While Shami gave India breakthroughs with the new ball in both innings at Centurion, it was his work with the old ball which helped India get a big first innings lead, as he kept running in and pitching the ball in the right areas.
Jasprit Bumrah was injured and the other Indian bowlers were not getting much help from the pitch with the old ball. A session of poor bowling at that stage could have resulted in South Africa getting close to India's score, but Shami ensured it wasn't the case.
Mohammed Shami has the ability to generate seam movement even with old ball
Mohammed Shami is not someone who can be called a genuine swing bowler, but the seam movement that he is able to generate even with the old ball, and the pace at which he does it, is something that differentiates him from a lot of the other fast bowlers around the world and puts him in the elite class.
With Mohammed Siraj bursting onto the scene on the Australia tour earlier this year, it was believed that he might replace Shami in India's test set-up and Bumrah, Ishant Sharma and Siraj might be India's first-choice attack in test cricket for the next couple of years, but Shami, with his quality performances right through the England tour and now in South Africa, has made sure he is one of the first names on the team sheet whenever India picks a test match XI now.
It was not easy for Shami by any stretch to put on the kind of performance he has put on in the Centurion test straightaway, as the Indian team hadn't played any warm-up games in South Africa and Shami had not played the test series against New Zealand either, but he still stood up to the expectations of the captain.