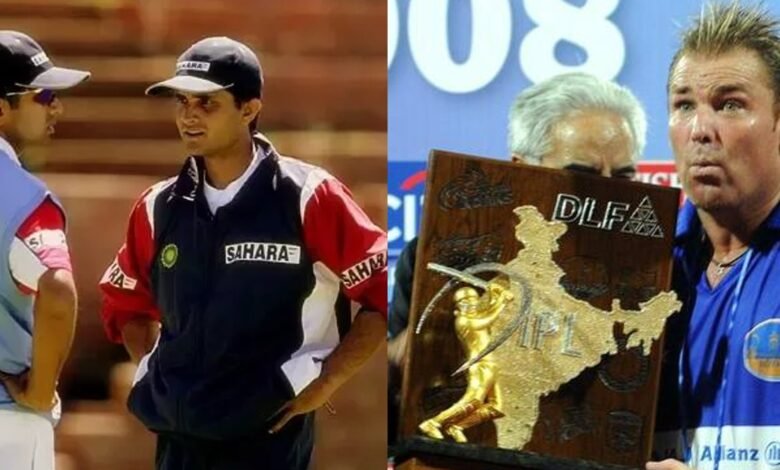 The Indian Premier League is one of the top cricketing competitions on earth right now. Currently, the 15th edition of the IPL is underway in Maharashtra, where 10 franchises are playing against each other to win the trophy. Captaining a team in the IPL is a very tough job. Quite a few team captains have struggled in the IPL.
One of the main reasons behind it is that the players from across the world are part of the same squad. Also, the team keeps changing every year. While some big names have failed as team captains in IPL, a few of them have been successful as well.
In this listicle now, we will look at the first players from each national team to play a captain's role of a team in an IPL match:
1. India – Sourav Ganguly and Rahul Dravid, team captains of 1st IPL match
Kolkata Knight Riders and Royal Challengers Bangalore played the first-ever IPL game in 2008. Sourav Ganguly captained KKR, while Rahul Dravid was the RCB skipper.
2. Australia – Shane Warne
In the same season, Shane Warne led the Rajasthan Royals, becoming the first Aussie to captain an IPL side.
3. South Africa – Shaun Pollock
Shaun Pollock captained Mumbai Indians in some matches of 2008 IPL. He was the first Protea star to lead in the league.
4. England – Kevin Pietersen
RCB appointed star England batter Kevin Pietersen as their captain for 2009 season, making him the first from England team.
5. New Zealand – Brendon McCullum
In 2009, KKR assigned their team's reins to Brendon McCullum as he became the first Kiwi to play the IPL team skipper's role.
6. Sri Lanka – Kumar Sangakkara
Kumar Sangakkara led the Punjab Kings in 2010, replacing Yuvraj Singh. He did not have a great run as the Punjab skipper.
7. West Indies – Dwayne Bravo
Caribbean star Dwayne Bravo has played the captain's role only once in his IPL career. He led the Mumbai Indians in the 2010 season.
8. Afghanistan – Rashid Khan
Afghanistan did not have a strong team when IPL started, but in the 2022 edition of the league, Rashid Khan became the first Afghan to lead an IPL side as he captained Gujarat Titans against the Chennai Super Kings.