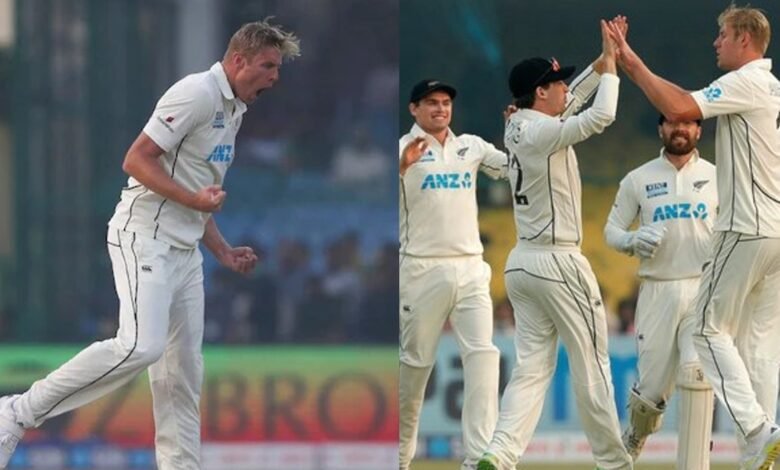 Kyle Jamieson has become the fastest ever New Zealand bowler to get to 50 test match wickets. The tall, lanky fast bowler got to the milestone in his 9th test match against India today in Kanpur and broke the record of the New Zealand legend Shane Bond, who is currently working as the bowling coach of the New Zealand cricket team.
Shane Bond had completed 50 test wickets in 12 test matches, and Jamieson has broken his record by quite some margin. The New Zealand fans would hope that Jamieson ends up having a significantly longer test career as compared to Bond who could play only 18 test matches because of consistent injury layoffs.
Jamieson and Bond are two very different kind of bowlers. While Bond was very quick through the air, Jamieson is more in the range of mid 130s, but what Jamieson has got is a very high release point which makes it difficult for the batsman to pick the length of the ball.
Apart from his release point, Kyle Jamieson can also swing the ball and he has done it not just back home in New Zealand, but everywhere he has played around the world. Even in the ongoing test match against India in Kanpur where the conditions are not very conducive to swing bowling, Jamieson has managed to generate a fair bit of swing with the new ball.
Shubman Gill was the 50th test wicket of Kyle Jamieson
Shubman Gill was Jamieson's 50th wicket in test cricket as he got the Indian opener clean bowled in the second over of India's second innings at Kanpur this evening, with a ball that seemed to nip back just a tad bit and went through the defense of Gill who got stuck on the crease.
Jamieson was the pick of the New Zealand bowlers on the first day of the test match as well, where he had dismissed Gill and Ajinkya Rahane to push India on the backfoot.