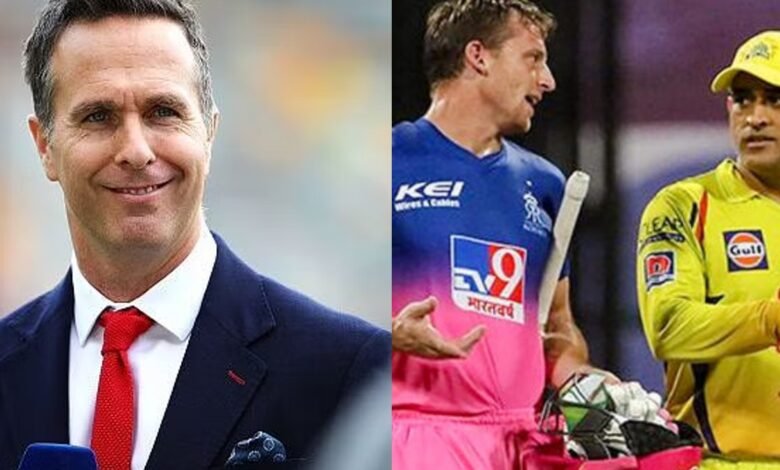 The former England captain Michael Vaughan reckons that the current England captain Jos Buttler can have as much longevity as MS Dhoni who is considered one of the greatest white ball captains of all time.
Like Dhoni, Buttler also won an ICC tournament in his very first attempt itself and the reason why Michael Vaughan has compared Buttler to Dhoni is because of his composed nature behind the stumps pretty much like the former Indian captain who is the only captain in the history of the game to have won all three white ball ICC trophies.
According to Vaughan, who was talking about Buttler in one of his columns in English press, It was because of his composure and his ability to take everything in his stride without getting fazed at all that Dhoni was able to maintain such longevity as an international captain and these are some of the qualities that Buttler has as well.
Jos Buttler has got the captaincy in his 30s unlike Dhoni
However, the only difference is the age at which the two of them got the captaincy. Dhoni got India's white-ball captaincy in 2007 when he was 26 years of age and he continued as captain for the next 9 years. Jos Buttler is already 32. So, to say Buttler will be captaining England for as long a period as Dhoni is a bit of an overstatement, but he can surely get close to the legacy of Dhoni if he wins the next year's ODI World Cup as captain in India.
MS Dhoni and Jos Buttler are the two wicket-keeper batters to win the T20 World Cup as captains.

— Johns. (@CricCrazyJohns) November 13, 2022
Vaughan also stressed the fact that never during the T20 World Cup 2022 did Buttler look frustrated or severely under pressure, even though England were in a position where they had to win 4 games in a row to win the tournament. England had lost to Ireland in the group stages and one more defeat after that would have eliminated them from the tournament.