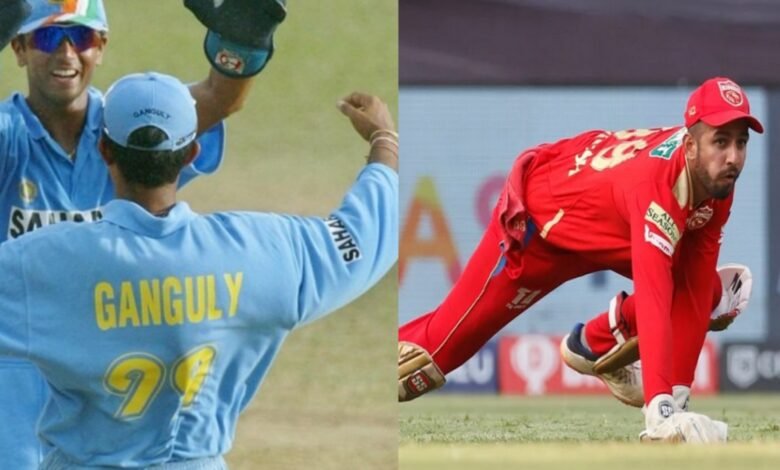 Jitesh Sharma, a wicketkeeper-batter who plays for both the Vidarbha and the Punjab Kings, recently discussed the significance of the number 99 on his jersey. He said that he chose the number 99 in homage to his cricketing hero, Sourav Ganguly. He said that he admired the former India captain for his battling spirit and that he thought his own personality is fairly similar to that of his hero.
Although Sharma did not spend much time watching Ganguly play during his playing days, he did hear a lot about the former Indian left-hand batter from his father. His father spoke highly of the former player's effect on the Indian cricket team as well as his battling spirit outside of India. And similarly to Ganguly, the batter for Vidarbha does not want to be controlled by others and instead constantly plays for the team and the win.
"Since I was a kid, Sourav Ganguly has always been one of my favourite players. Even though I did not watch him play very much, my father used to speak a lot about him. He would often joke about and call Dada (Ganguly) a Tiger. He is a figure who brought about change in Indian cricket and in their mindset," the former Indian cricketer noted in an episode of 'Say Yash to Sports' co-hosted by Dr. Yash Kashikar and Sharma.
Ganguly was the first member of the squad to participate in the battle: Jitesh Sharma
Ganguly is widely regarded as one of the most successful and iconic leaders in the history of Indian cricket. After taking over as captain of India in the year 2000, he is credited with completely transforming the nation's image and leading the team to a number of significant victories, including a share of the ICC Champions Trophy in Sri Lanka in 2002 and the Natwest Series in England in 2002.
"In addition to that, I admired his fierce competitiveness. He was the first one to fight for the team if everyone else was silent and India was unable to dominate in the outside world. I get the impression that my nature has not changed much. I don't like it when others try to dominate me. It makes me uncomfortable. I always play for my team, and I hope that they come out on top. Because of him, I decided to wear the number 99 on my jersey," he added.
Following his signing with Punjab Kings in the 2022 season of the Indian Premier League, Sharma went on to play a total of 12 matches throughout the season, during which he scored 234 runs at an amazing strike rate of 163.64. In addition, he was an important contributor behind the wickets, as he collected nine catches and completed two stumpings.