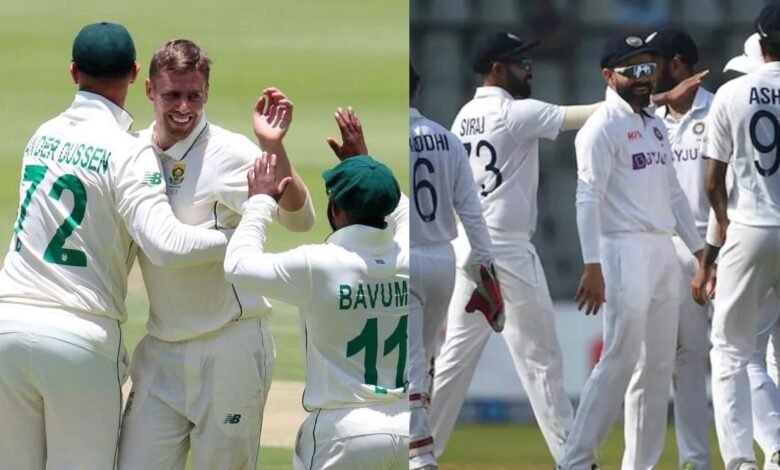 In what has come as a major blow for the South African cricket team, their premier fast bowler and one of the fastest bowlers in the world, Anrich Nortje, has been ruled out of the upcoming 3-match test series against India because of injury. The test series is starting on Boxing Day, which is a day after Christmas.
While South Africa has got an allround pace attack anyway, Anrich Nortje was the point of difference in their attack because of his express pace. He was someone who was capable of bowling in excess of 150 KPH and hit the deck hard as well, which might have been a very difficult challenge for some of the Indian batsmen.
South Africa has got a couple of good enough replacements for Nortje in the squad already, one of them is Duanne Olivier who can also crank up speeds in the range of high 140s, but losing the penetration of Nortje is definitely not great news for South Africa.
The Indian fans, all of a sudden, are now feeling very confident about India's chances in the series, even though South Africa can still field a high quality pace attack, led by Kagiso Rabada who is one of the best test bowlers in the world himself, particularly in seamy conditions.
Rabada's pace has come down a little bit in the recent times as he looks to bowl within himself in the longest format of the game most of the time, but he has found more control now by dropping a couple of yards of pace and can land the ball in the channel quite regularly, to go with his ability to generate movement as well, both in the air and off the pitch.
South Africa has rolled teams over even without Anrich Nortje in the past
There is no doubt about the fact that the challenge would have been much tougher for India if Anrich Nortje was there, but it's not going to be a walk in the park for India by any stretch of imagination, even when Nortje is not there. The other South African bowlers have more than enough experience of rolling teams over in home conditions and they have done it before without Nortje.
The Indian team has been indulged in high intensity training for the past couple of days and the captain Virat Kohli himself has been seen having long net sessions ahead of the first test. India would want to set the tempo early in the series, because it's not easy to come back in a 3-match series after falling behind.
Here is how the Indian fans reacted on twitter after the news came out that Anrich Nortje would not be playing in the upcoming test series –
We are worrying a lot about Rohit Sharma and Ravindra Jadeja missing from test squad on SA tour.

South Africa won't have Quinton de Kock and Anrich Nortje either.

It can be advantage India guys. BELIEVE in our boys. #SAvIND #CricketTwitter

— Abhishek (@abhishekr2502) December 21, 2021
lol we HAVE to win now, there's just no other choice https://t.co/YSsTi3ngbq

— poorvxka (@PoorvikaKumar) December 21, 2021
No AB , FAF , AMLA . De Kock to miss couple of matches! And now this !!
Massive opportunity for india to win the first series. https://t.co/MnOg2DcrN8

— Sayan (@earthtrackbully) December 21, 2021
Easy win now https://t.co/bfbWBCe3w1

— ABHI (@ABHINAV_HR) December 21, 2021
And that's the series winner for India far too comfortably now. https://t.co/H4SRbwlGtG

— 𝗔𝗱𝗶𝘁𝘆𝗮 (@StarkAditya_) December 21, 2021
https://twitter.com/CricCrazy281/status/1473222424170831874
Bad for the test series but massive advantage India. https://t.co/hFLJ16Gj1r

— Rohan 🏏 (@Rohantweetss) December 21, 2021
Series win in South Africa!!!!!
Here we come!!!! https://t.co/qyaMoYHzTi

— ArnavTalksCricket 🏏 (@TweetsByArnav) December 21, 2021
India should be disappointed if they don't win now. https://t.co/ebOpsCcGVL

— Sparsh Telang (@_cricketsparsh) December 21, 2021
Nortje out…India should win this series now

— JSK (@imjsk27) December 21, 2021
Everything pointing towards an Indian victory. Only if they bat well we are winning 3-0 https://t.co/Gwxtsa4j2v

— Asif Raza (@ASIFCR75) December 21, 2021