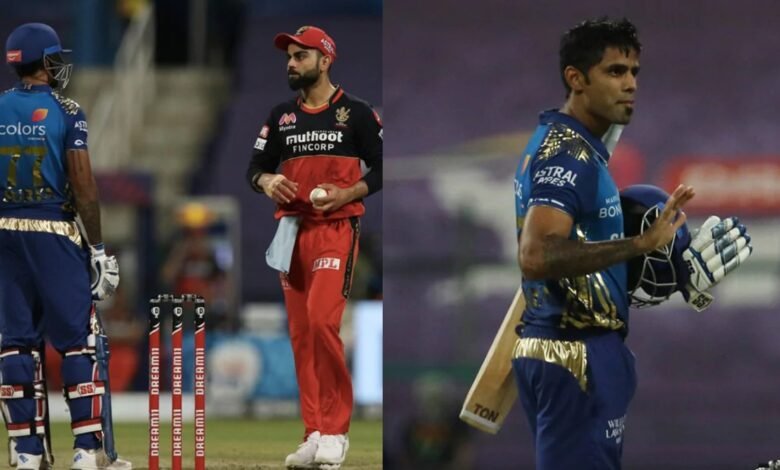 Suryakumar Yadav, the Mumbai Indians middle-order batsman, has recalled a very interesting story of IPL 2020 on Gaurav Kapoor's show Breakfast with Champions. The story involves the former Indian captain Virat Kohli and a game between Royal Challengers Bangalore and Mumbai Indians.
Recalling the game, Suryakumar Yadav told Gaurav Kapoor that it was a very important game for both the teams and both wanted to win it desperately. So, Virat Kohli was trying to sledge and unsettle the opposition batsmen and he himself was one of those batsmen whom Kohli was sledging.
There was an occasion during the game when he played the ball towards Kohli, Kohli fielded it and started moving towards him aggressively. Suryakumar said that he tried to play it cool by standing firm while Kohli was walking towards him and tried to give the impression that he didn't care even if a powerful Indian player, who was actually the Indian captain at that point of time, was moving towards him.
I was actually very nervous, but I was trying to play it cool: Suryakumar Yadav
But, Suryakumar revealed that he was actually very nervous while Kohli was moving as he didn't want it to turn into a controversial situation at all. He was almost pleading to himself not to say a word at that stage because he knew that it was only a matter of a few seconds and the next over would start soon.
But, luckily what happened was that as Kohli got close to him, Suryakumar's bat fell down and as he leaned down to take up his bat, the situation broke and Kohli moved away which avoided any sort of controversy that might have erupted if Suryakumar had said a word to Kohli and Kohli had reverted back.
SKY bodied 14yo MI Fanspic.twitter.com/NymL5cFdwc

— Gaurav (@Kohli4ever) April 19, 2022
Suryakumar Yadav eventually batted till the end of that game and won the game for Mumbai Indians with an unbeaten knock of 70 odd.