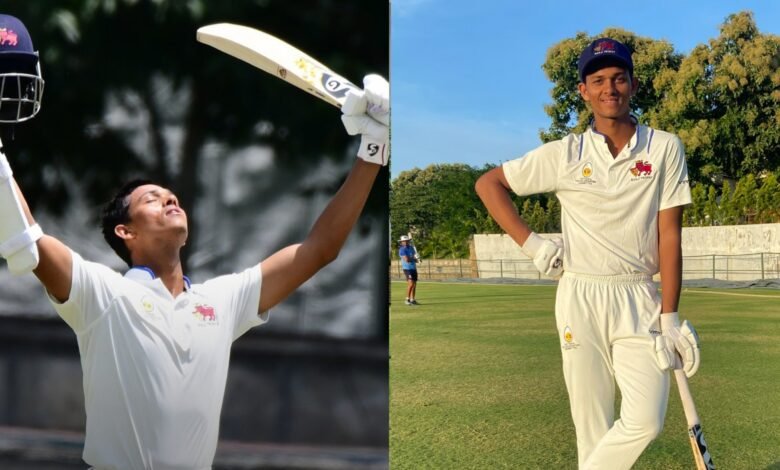 After scoring two centuries in the Ranji Trophy semifinal match against Uttar Pradesh, Yashasvi Jaiswal feels humbled to see his name with icons like "Master Blaster" Sachin Tendulkar and "Hitman" Rohit Sharma on an exclusive list of players. After scoring 100 runs in the first innings, Jaiswal followed it up with an astounding 181 runs in the second innings to help Mumbai secure a spot in the championship match.
The most notable aspect of his performance was the guts and determination he displayed in the second inning. It took him till the 54th ball that he faced for him to open his account, and after that, there was no turning back for him as he continued to make the UP bowlers seem like they had no idea what they were doing. As the young batter achieved back-to-back hundreds in the same match, he joined the ranks of Ranji Trophy greats such as Sachin Tendulkar, Vinod Kambli, Rohit Sharma, Ajinkya Rahane, and Wasim Jaffer as one of the few players to accomplish this remarkable achievement.
I had no idea that this record existed: Yashasvi Jaiswal
"After examining the wicket, I concluded that it was a slow one. After Prithvi got out, I spoke with Armaan Jaffer about the strategy. Because I intended to spend as much time as possible, one of my goals was to buy myself some time at the crease. This was the strategy that I had. Once I got comfortable, I began picking up pace. I know it took me a lot of balls to get off the mark," Jaiswal said in an interview with the Times of India.
"I had no idea that this record existed. As soon as I got back to the locker room, my teammates informed me about what had happened. It is an honor to see my name with icons like Sachin sir, Wasim sir, Rohit, and Ajinkya," he added.
As a result of Yashasvi Jaiswal's two centuries in the decisive match, Mumbai has advanced to its 47th Ranji Trophy final. The award for Player of the Match was given to Yashasvi Jaiswal. When they compete against Madhya Pradesh on June 22 at the M. Chinnaswamy Stadium in Bengaluru, they will be looking to set a new record by winning a record 42nd championship. In the meanwhile, this is also a momentous event for MP since, after a long wait of 23 years, they have finally made it to the final of the Ranji tournament.