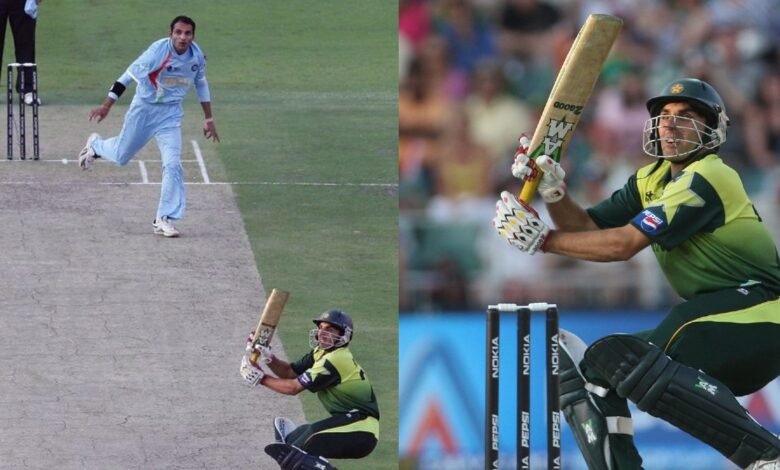 The former Pakistan captain Misbah ul Haq has recalled two incidents where he faltered while playing against the arch-rivals India in the knockout of a World Cup. The first one was the final of the T20 World Cup in 2007 and the second was the semifinal of the ODI World Cup 2011.
Misbah was the last recognized batsman at the crease for Pakistan in both those games and despite taking Pakistan close on both occasions, he couldn't finish those games eventually.
The T20 World Cup final of 2007 looked a complete lost cause for Pakistan at one point of time, but Misbah, with a late onslaught towards the end of the game, brought Pakistan back into the fixture and with 6 needed off 5 balls at one stage, it looked like Pakistan's game.
But, then Misbah tried a scoop shot with a fine leg up and ended up mistiming it. Sreesanth took the catch at short fine leg and India created history by winning the first-ever edition of the T20 World Cup.
Misbah then had the chance to redeem himself four years later in Mohali when Pakistan were chasing a moderate total again in the semifinal of ODI World Cup 2011. But that game never went as close as the T20 World Cup final and even though Misbah played some big shots towards the end, India were always well and truly ahead.
Misbah ul Haq talked about both World Cups on Shoaib Akhtar's YouTube channel
Recalling both those games, while talking to Shoaib Akhtar on his YouTube channel, Misbah ul Haq said that he was playing the scoop shot so well right through the T20 World Cup of 2007 that he perhaps got a bit overconfident with that shot. It was the first scoop shot that he mistimed in the tournament, and it happened to be the most important moment of the tournament.
And then in Mohali, Misbah revealed that it was the gameplan of the Pakistani team to take the game deep and win the game in the batting powerplay.
Even when the required run rate was getting close to 10, Misbah said he was not bothered because he was waiting for the batting powerplay, but as it turned out, Pakistan didn't have enough wickets in hand when the batting powerplay arrived and the team couldn't take the full advantage of the batting powerplay.
Misbah was the last Pakistani batsman to be dismissed in that game as he was caught at long-on by Virat Kohli while trying to loft Zaheer Khan over long-on.