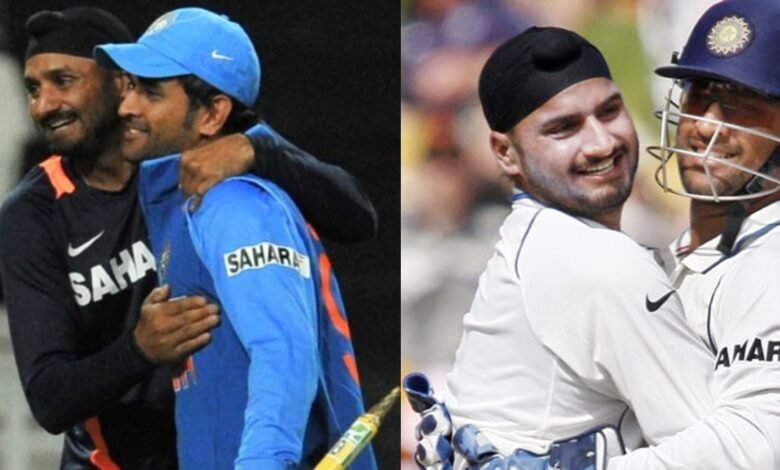 The former Indian off-spinner Harbhajan Singh came up with a hilarious answer when he was asked in a recent interview about his rapport with his former captain Mahendra Singh Dhoni.
Harbhajan gets asked a lot of questions about his relationship with Dhoni because of the fact that he was dropped from the Indian squad in all formats of the game under the captaincy of Dhoni and was replaced by Ravichandran Ashwin.
When Harbhajan was asked the same question again today on Cricketnext, he sarcastically said, "I am not married to him (Dhoni). It was probably Harbhajan's way of saying that his personal relationship with Dhoni has no significance over his removal from the Indian squad.
Clarifying his previous comments where he had said that some of the members of India's World Cup winning squad of 2011 could have continued further, Harbhajan said that he was not blaming Dhoni with those comments. He was actually having a go at the previous BCCI administration.
According to Harbhajan, more than Dhoni, it was actually the BCCI administration of that time which was behind the removal of many senior players and when he went to the selection committee to know the reason of the removal, the selectors told him that the decision was not in their hands. Harbhajan said he could not understand when the decision was not in the hands of the selectors, why they were even in the job.
Harbhajan Singh made several comebacks to the Indian team after being dropped in 2011
Harbhajan, who was dropped in 2011, later made his comeback in Indian colors several times. He was picked in the Indian squad for the T20 World Cup of 2012, he then made a comeback to the Indian Test team in 2015 and he was also a part of the Indian squad for T20 World Cup of 2016 in India, but the veteran offie couldn't cement his place back in the Indian team on any of those occasions.
Harbhajan, however, continued playing in the IPL and after being released by Mumbai Indians before the mega auction of 2018, he was bought by Chennai Super Kings (CSK) where he won an IPL title straightaway under the captaincy of Dhoni again.
CSK released Harbhajan after IPL 2020 and the 40-year old played his last IPL season for Kolkata Knight Riders (KKR) before eventually hanging his boots. Harbhajan featured in a couple of games for KKR in the first half of the last IPL, but he was on the bench for the entire second half.