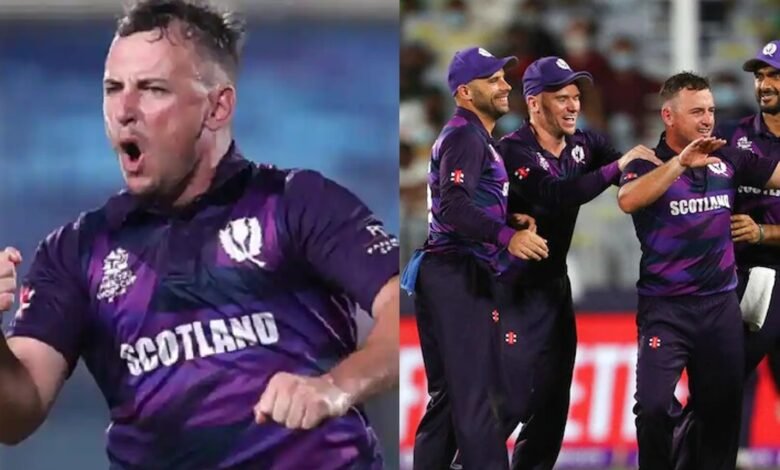 The Scotland skipper Kyle Coetzer has revealed that Chris Greaves, the hero of Scotland's victory in their first match against Bangladesh in the ongoing T20 World Cup, was actually in a completely different job of a delivery boy a few months back.
According to Coetzer, Greaves didn't even have the Scotland contract very close to the T20 World Cup and nobody would have thought that he would start in Scotland's first World Cup game, let alone putting in a match winning performance.
But, it's a testimony to his incredible hard work that not only did he get into the playing XI in the first game, he bailed Scotland out of a hopeless situation.
"I am really proud of Greaves. He really sacrificed a lot. He was delivering parcels for Amazon not too long ago, and now is getting Player of the Match against Bangladesh. I am not sure if he will appreciate me saying this," Coetzer was quoted as saying in his post match interview.
Chris Greaves put in a quality all round performance when Scotland was in a desperate situation
The Scottish side had lost 6 wickets for just 53 runs batting first against Bangladesh, and it seemed as if they would remain massively underpar on a slightly two paced pitch.
Greaves first dragged Scotland to a respectable total with 45 off 28 balls and then got them a couple of wickets with his leg spin as well, at a time when the match was evenly poised.
Scotland has got some talented players in their squad, but very few people would have been backing them to beat Bangladesh, that too on slowish surfaces. But, now that they have done it, they have given themselves a great chance of not only qualifying to the main round of the World Cup, but also topping their qualifying group.
Bangladesh, on the other hand, is in a must win situation now. They have to win both their remaining games to keep their main round qualification hopes alive.