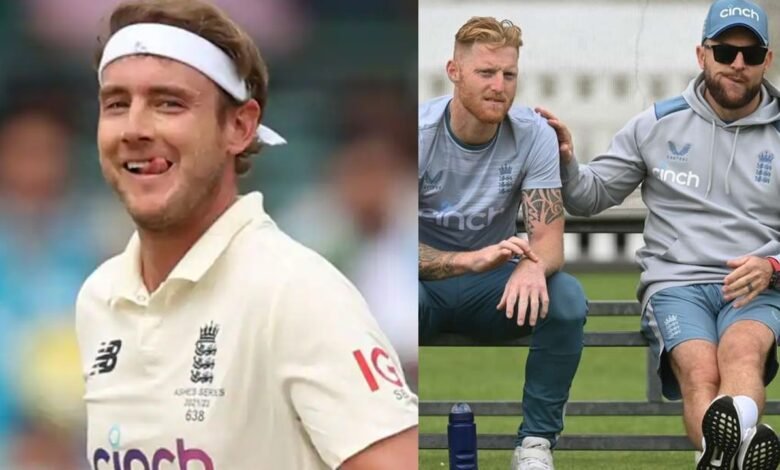 Ace England pacer Stuart Broad revealed how Brendon McCullum and Ben Stokes revolutionised their Test cricket. He said that when the former New Zealand player joined the team as a head coach he was clear in his mind as he was quick to note that they have attacking players and they should focus on the strength of those players.
"He looked to the squad when he took the job and said we've got guys who play attacking shots," Stuart Broad reveals how Brendon McCallum and Ben Stokes revolutionised their Test cricket
England's Bazball concept has taken the World by storm. Under the leadership of Ben Stokes and coach McCullum, they have looked at a completely different side as they have adopted a fearless approach and instead of being conservative, which they followed earlier, they are going for the kill. 
They are yet to lose a series as they first whitewashed New Zealand, pounded India by 7 wickets to win the rescheduled match and then won the Test series against South Africa. And most recently they thumped Pakistan at the home with their attacking mindset.
They posted a total of 657 runs in just 100 overs. If this was not enough, they then made a bold declaration in the second innings, risking a loss. But they produced a superlative effort and bundled out Pakistan for 268 runs in the second innings and won the game by 75 runs to take a 1-0 lead in the series.
They called me a madman 🔥#BazBall pic.twitter.com/jkIEluuBs2

— Mubassir 🇵🇹 (@its_mubassir_) December 5, 2022
Ever since Stokes took over the captaincy, English players looked very optimistic on the field as they have played an attacking brand of cricket and made many applaud them for their heroics. Whenever they seemed in trouble someone chipped in and bailed the side out of the trouble with the counter-attacking innings.
Following England's huge success, many have lauded them for their changing the brand of Test cricket and bringing energy to the game. Stuart Broad, who is an integral part of the change revealed how Brendon McCullum revolutionised their Test cricket.
Speaking to Sky Cricket, he said: "He looked to the squad when he took the job and said we don't have a style of players to be able to bat 90 overs like like Jonathan Trott or Alastair Cook and build long old Test match innings. We've got guys who play attacking shots.
"Maybe defence or leaving the ball is not so much their strength, we have to focus on what these players' strengths are and free the mindset up to let them go and do that. If they do get out driving loose to out of the off stump, don't criticise them and encourage them to actually try and improve their technique or hit harder."
"I didn't hear him say one negative word," Stuart Broad on Brendon McCullum
Broad further went on to say that he didn't hear McCullum saying even one negative word. He also revealed that when a player gets out smashing the ball, instead of telling him that he could've kept that down, he insists them to hit harder. He added:
"One thing I would say about him, in the whole summer I played, I didn't hear him say one negative word and it was really interesting watching him training. He walked around, wouldn't throw balls and wasn't on the tools but he talked to every single in the training just to make sure they are going in with the positive mindset. If a player got out at mid-on or caught on hook, it was never you could've tried to keep that down. Him and Stokes, it was always why didn't you try to hit it for a six or why didn't you go just bit harder and clear the fielder."
England is currently playing second Test against Pakistan in Multan. Although they have struggled to score big. But they are likely to win the game.