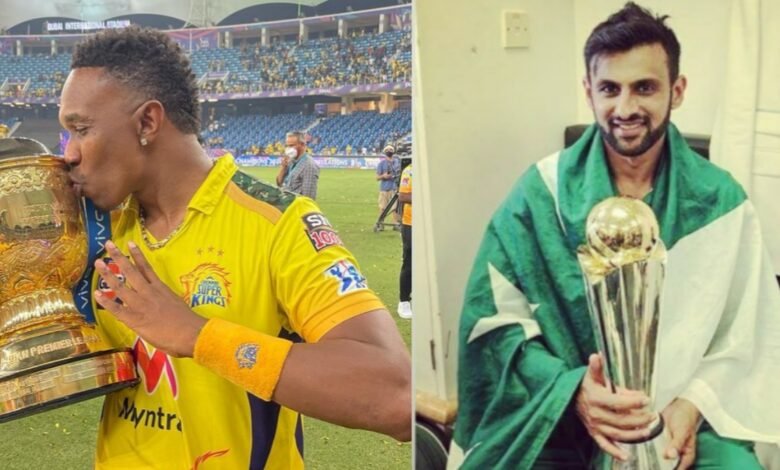 As a cricket player, one of the main targets is to win the trophy. Some players even say that it is fine if I don't do well and we get the trophy. Jasprit Bumrah and Kagiso Rabada recently said that they will be happy if they don't take wickets and win the IPL trophy. Winning a title or a trophy is the best thing for any cricket player. With so many T20 leagues going around, you have a chance to win multiple titles in a year, and some players have managed to do it. So, who are the players with the most T20 titles? Let's have a look at the five players with the most titles in T20 history.
5. Lasith Malinga – 9 titles
Lasith Malinga is probably the best T20 bowler the game has ever seen. You won't find a better death bowler than Malinga at his prime. His accuracy with the yorker is just unbelievable and with his slingy action, he was always going to be difficult to hit. The Sri Lankan quick has won nine titles in the history of T20 cricket. He wasn't part of this MI side, but he was part of the 2013,2015,2017 and 2019 sides. In fact, he bowled the last over in the 2019 IPL Final ad defended nine runs for his team. He was won the CLT20 and has led the Sri Lankan team to a World T20 trophy. He has won nine titles in his T20 career so far.
4. Rohit Sharma – 10 titles
Rohit Sharma is at a different level when it comes to winning IPL trophies. He has led Mumbai Indians to five titles and has won one more with Deccan Chargers in 2009. Winning five titles as a captain is a commendable achievement. Mumbai Indians even won the CLT20, and he was a part of that. India has won the Asia Cup in 2016 which was a T20 tournament. Sharma was also an integral part of the 2007 T20 World Cup-winning squad. He has also led India to the Nidahas Trophy in a thrilling Final against Bangladesh. Rohit Sharma is the only Indian who has won 10 or more T20 titles.
3. Shoaib Malik – 13 titles
Shoaib Malik was an integral part of the 2009 T20 World Cup squad, which Pakistan won. Malik is the only Pakistan player who has won more than 10 T20 titles. He has won the National T20 Cup, which is a domestic competition in Pakistan. He has won the Bangladesh Premier League a couple of times and has won the Caribbean Premier League as well. He was a part of the Pakistan side which won a tri-series against Australia and Zimbabwe. In all, he has won 13 titles for various teams.
2. Kieron Pollard – 15 titles
Kieron Pollard recently became the player with the second most T20 titles. Pollard won his 15th for Mumbai Indians in IPL 2020. Kieron Pollard has been a part of the Mumbai Indians since 2010, and so he has won five IPL titles and one CLT20 with that franchise. He won the T20 World Cup in 2012. In the span of three months, he won two titles – CPL with TKR and IPL with MI. He has won the Bangladesh Premier League and the domestic T20 competition in the Caribbean. Overall, he has won 15 T20 titles and is second on this list.
1. Dwayne Bravo – 16 titles
Dwyane Bravo is first on the list with 16 T20 titles to his name. Bravo has won the T20 World Cup twice, once in 2012 and the second time in 2016. He has won the IPL thrice with Chennai Super Kings and has won the CLT20 once. He was won the Caribbean domestic T20 competition thrice and has won the CPL five times. He was a part of the Trinbago Knight Riders who won the latest edition. He has also won the BBL twice. Bravo has gone everywhere and has almost won every trophy.