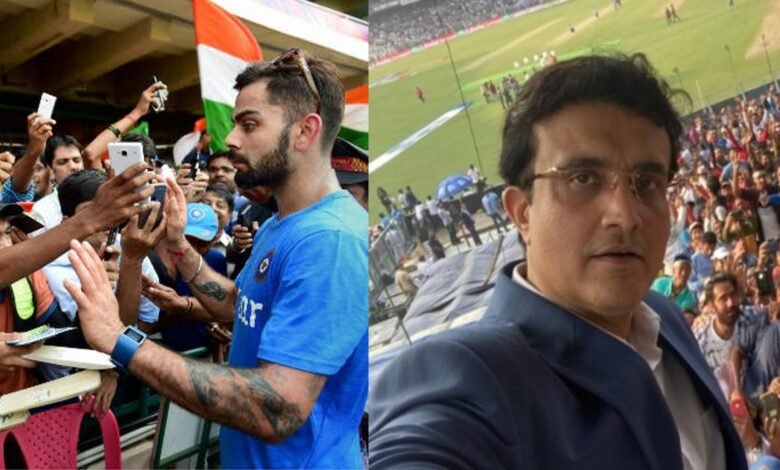 The power tussle between the Indian captain Virat Kohli and the BCCI president Sourav Ganguly is heating up and it's not just limited to the board, it is now happening on social media as well with the fans of these two superstar cricketers trending different hashtags on Twitter.
After Virat Kohli confirmed that Sourav Ganguly never asked him to continue as the T20I captain as he said in the media, Ganguly fans trended "Nation stands with Dada" on Twitter last night, questioning the audacity of Virat Kohli to contradict the statement of BCCI president in a BCCI press conference.
However, after last night's trend, Kohli fans came up with their own hashtag "World stands with Kohli" and right now, it is trending on Twitter with plenty of tweets pouring in support of the Indian test captain, questioning the credibility of the BCCI president himself.
These hashtags might be strange, given the fact that both Kohli and Ganguly hold top positions in Indian cricket and have got the same objective to work towards, but BCCI, in reality, is very unhappy with Kohli for not showing enough respect to the office of the BCCI president.
There were reports that BCCI explored the possibility of a show-cause notice to Kohli, but the idea was eventually dropped as it would have certainly had an adverse effect on the morale of the other players who are currently in South Africa with Kohli to play a vital test series.
Virat Kohli needs good results on the South Africa tour
For Kohli to continue as the test captain of India, he needs to ensure he comes back from South Africa with good results because if he doesn't, BCCI might reconsider his position as a test captain as well, given what has gone on in the last few days.
Ideally, there shouldn't have been any question marks on Kohli's Test captaincy, as he has delivered great results both home and away in the longest format of the game, but with his relationship with the board deteriorating, his leadership position right now is nowhere near as strong as it was a few months back.
India are on the South Africa tour without two of their key players, Rohit Sharma and Ravindra Jadeja, and they are not going to have any warm-up games under their belt before the first test match either. It's fair to say Kohli has a very difficult job in hand as captain at a time when he is struggling with his form as a batsman too.
That's why #WorldStandsWithKohli pic.twitter.com/aaz8FP7m1N

— " Jai Chappell 🚩 (@KollyfiedGal) December 17, 2021
Greg Chappell's take on Sourav Ganguly and Virat Kohli is enough to let the world know the difference between the two. 🔥#WorldStandsWithKohli pic.twitter.com/Bu97XetJ4l

— Harsh // Parody (@ForeverVirat_) December 17, 2021
Thank You Greg Chappell 🙌 Thanks For Ur Contribution..! 👏#WorldStandsWithKohli pic.twitter.com/sKtiwjuQgT

— Viratian Sachin 25 (@imsachinA25) December 17, 2021
Senior Players of 2005-2007 missing Greg Chappell so decided to act like him themselves.#NationStandsWithDada #WorldStandsWithKohli #indian #BCCI #BCCIPolitics #ViratVsBCCI #viratkholi #Dada

— Kanchan (@Esstopitkanchan) December 17, 2021
#WorldStandsWithKohli
King kohli ka apman
Nahi sahega hindustan 🇮🇳 pic.twitter.com/it4t0fXiMw

— jeet yaduvanshi (@JITENDR97530993) December 17, 2021
#WorldStandsWithKohli Trending At Kohli's Position In Trends list.@imVkohli The Global Superstar,Face of Indian Cricket 👑 pic.twitter.com/68TonJiXPQ

— Virat Kohli Trends™ (@TrendVirat) December 17, 2021
•Sourav Ganguly after winning a series in ENG

•Virat Kohli after scoring his 70th International century

Levels#WorldStandsWithKohli pic.twitter.com/zT5w0qKiPe

— Gaurav🕊️ (@Kohli4ever) December 17, 2021
My king is bigger than BCCI #WorldStandsWithKohli pic.twitter.com/Xshq4SqOs1

— Yash (@vkchasemaster) December 17, 2021
They are messing up with wrong fanbase 🔥🤫
Virat fc mass 🔥#WorldStandsWithKohli pic.twitter.com/NsVCgXw2Sg

— Anjali Sharma (@Anjali_vk_18) December 17, 2021