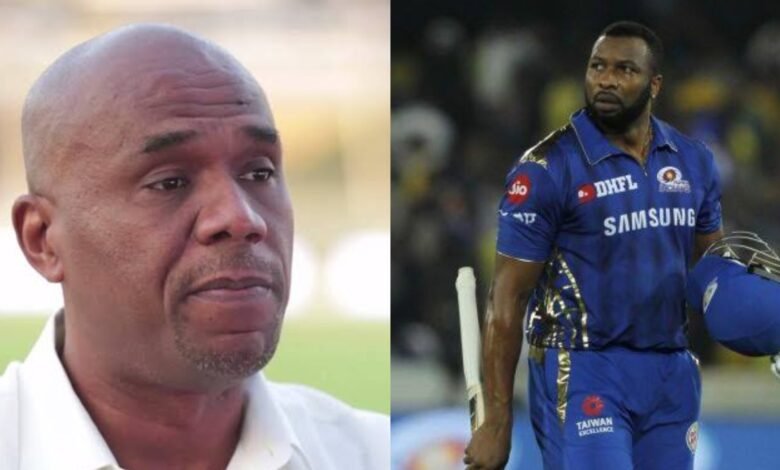 Ian Bishop is of the opinion that the reason why Mumbai Indians are not dropping Kieron Pollard from the playing XI despite his repeated failures in the ongoing IPL season is that the former West Indies captain has contributed massively to Mumbai's title triumphs in the past.
According to Ian Bishop, who was speaking on ESPNcricinfo, whenever Mumbai Indians have won trophies in the past, and they have won several of them, Pollard's stats in those campaigns have been extraordinary. Pollard has not just scored runs for Mumbai, he has scored runs at a very high clip which has helped Mumbai win Championships.
So, now that he is going through a slump, the fans might demand that he should be dropped and the media might demand that too, because fans and media have a very short term memory, but the franchise and the management know what Kieron Pollard has done for them over the years and it's because of his massive contributions in the past that they are giving him every possible opportunity to find his form again.
Mumbai has not yet taken the option of playing Brevis and David together and dropping Kieron Pollard
Mumbai Indians have got two young overseas batsmen in the squad in Dewald Brevis and Tim David and they have the option of playing both of them in the middle order and dropping Pollard, but they haven't gone through that route yet and have stuck with Pollard for every single game.
With Mumbai Indians already out of this year's IPL now, it's very much possible that the Mumbai management gives Pollard the entire season to find his form because they also have to make decisions on players' retention for the next season. With a few young players already there in Mumbai's ranks, if Pollard doesn't find his form by the time the ongoing season ends, Mumbai might then not retain him for the next season.
However, for the remaining three games of this IPL season, Kieron Pollard is likely to be in Mumbai's playing XI.