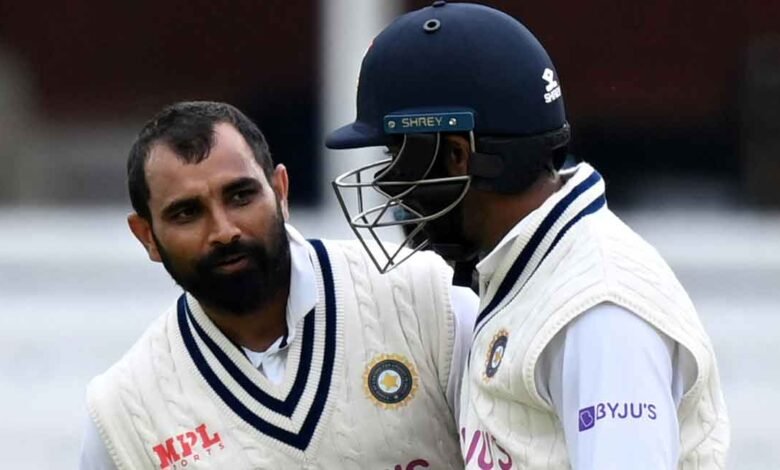 India defeated England in an epic Test match at the Lord's cricket ground yesterday. Virat Kohli's men were on the backfoot after England dismissed Rishabh Pant and Ishant Sharma early on Day 5 of the Lord's Test match. However, Mohammed Shami and Jasprit Bumrah turned the tables.
Their ninth wicket partnership of 89 runs helped India set a target of 272 runs for the home team. In reply, England could score only 120 runs and lost all their wickets. A surprising tactic that fans saw from India during the match was that the Indian cricket team batted for just two overs after the lunch break.
The visitors had taken a decent lead of 259 runs at lunch break. After lunch, India batted for nine more deliveries. If India declared at lunch, England would have received a target of 260 runs to chase in 62 overs. However, since India batted nine more balls and scored 12 more runs, the English team had to chase 272 to win the Test in 60 overs.
Did the slow over rate rule prompt India to bat for nine more deliveries?
Slow over rate is a rule that has impacted many teams. In the ICC World Test Championship, there is a rule that a team should bowl at a minimum 15 overs per hour, meaning 90 overs in six hours of play. However, there are a few exemptions as well.
Sub-clause 12.9.4.1 states "if the fielding team bowls out the batting team in 60 overs or less in any particular innings and the minimum over rate requirement for that innings has not been exceeded (taking into account all of the time allowances described above), no account shall be taken of the actual over rate in that innings when calculating the actual over rate at the end of such match".
India and England were penalized 40 percent of match fees and two points in WTC 2021-23 for the slow over rate. Hence, it could be possible that India batted nine more balls and brought the number of remaining overs down to 60 due to this rule.