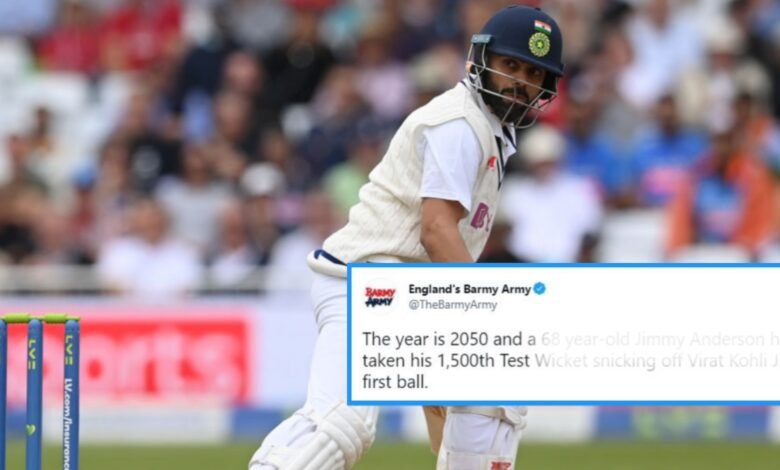 Barmy Army's shy at Virat Kohli: England managed a fortunate escape against India in the first Test as the last day of the match was washed away due to a heavy downpour.
India was comfortably rooted in the driver's seat, with 157 runs to win on the last day and nine wickets in hand. Sadly, a pouring monsoon played spoilsport and threw a spanner in India's ambitions of scripting a remarkable victory.
However, in the first innings, the Indian fans weren't really happy after their skipper, Virat Kohli was removed for a golden duck by their primary bowler, James Anderson with an extraordinary screamer.
This led to a severe meme-fest on Twitter, with Kohli struggling lately to get a few good knocks. Despite getting a few good starts, Kohli has lost his track in the middle and has faded away from the explosion that he used to be.
The last century scored by Virat came in 2019 and that too against a languishing Bangladesh in Kolkata. Ever since then, his highest score has been 74 and it came against Australia.
Despite being one of the leading run-scorers against James Anderson, the fast bowler has also claimed him quite a few times.
This is what the Barmy Army had to say about Virat Kohli
Making a note of Anderson's dominance, Barmy Army took an exceptional dig at Virat Kohli and the Indian fans weren't really happy about it.
However, it was so sublime that one won't be able to categorize the difference between a shy at Kohli and an appreciation post of Anderson.
The tweet read, "The year is 2050 and a 68-year-old Jimmy Anderson has taken his 1,500th Test Wicket snicking off Virat Kohli Jr first ball."
Despite being 39 years old, Anderson has been wreaking havoc ever since his inception in the English cricket team. Irrespective of his team, he is an extraordinary bowler and invokes respect from every single nook and cranny of the world.
He was instrumental in dismantling India's batting line-up in the first innings as he went onto claim 4 wickets in the innings and was perfectly accompanied by Ollie Robinson who picked up an impressive fiver.