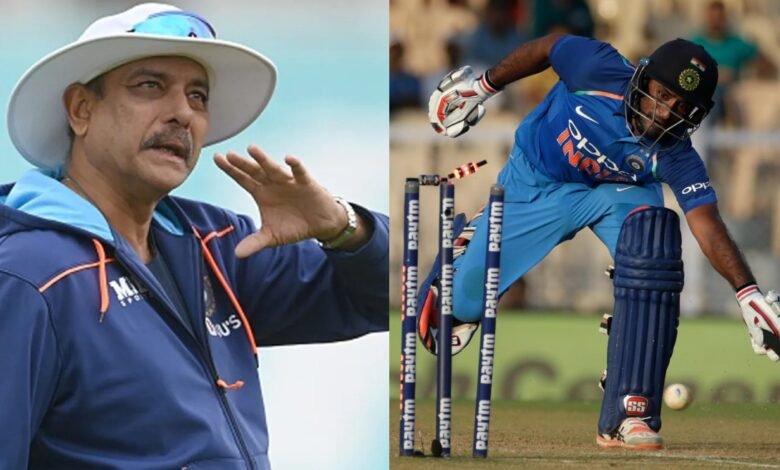 India's former head coach Ravi Shastri has made some sensational revelations in an exclusive interview with Times of India today, and one of the many topics that he touched upon was India's squad selection for the ODI World Cup of 2019. There were a couple of questionable calls made with regards to the World Cup selection, and Shastri has revealed that he himself didn't understand those calls.
According to Shastri, the selection committee decided to go with two specialist wicketkeepers in MS Dhoni and Dinesh Karthik, when KL Rahul was already there who could keep wickets as well, in case of an injury to the designated first-choice keeper. And then they added Rishabh Pant to the squad midway through the tournament, which meant the squad had three specialist keepers and one make-shift keeper.
Ravi Shastri is of the view that rather than going with so many keepers, the selectors could have gone with Ambati Rayudu or Shreyas Iyer as a specialist middle-order batsman. Shastri also revealed that he didn't have a say in the selection matters despite being the head coach of the team and the final squad that was announced was the decision of the selection committee which was in the job at that point in time.
Ravi Shastri and Virat Kohli were criticised for Rayudu's exclusion in 2019
There was a lot of criticism around Rayudu's exclusion in 2019, but most of the criticism was directed towards the team management and not the selection committee, as it was mostly believed that the captain Kohli and the coach Shastri didn't want Rayudu in the team and the decision to drop him was not the decision of the selectors.
India picked the Tamil Nadu allrounder Vijay Shankar for Rayudu, considering the fact that he could also give the team a bowling option apart from being a middle-order batsman. But as it turned out, Shankar got injured while batting in the nets and India were back to their composition of 5 bowlers, with Kedar Jadhav being the 6th part-time option.
India later missed a specialist middle-order batsman in the knockout round of the tournament when they suffered a massive collapse against New Zealand and lost 6 wickets in a jiffy, before a rearguard action by Ravindra Jadeja and MS Dhoni brought them back into the game. India, however, still fell short as MS Dhoni got run out in the 49th over with less than 20 required to win.