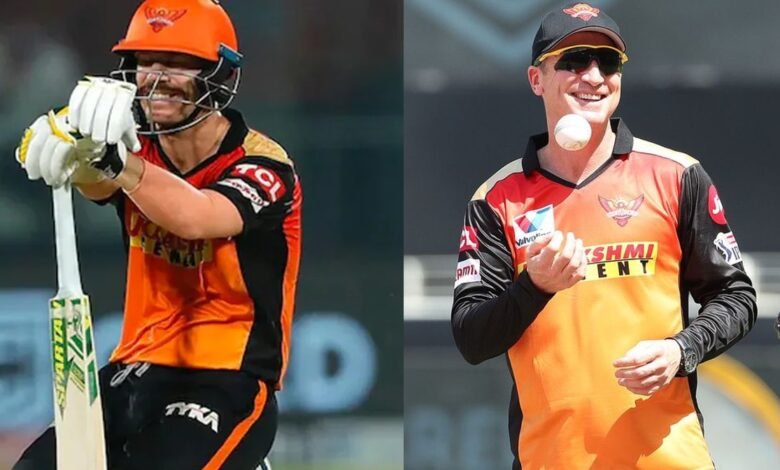 The former Australian wicketkeeper-batsman and one of the members of the coaching staff of Sunrisers Hyderabad, Brad Haddin, has made a surprising revelation that the decision to drop David Warner from the SRH playing XI midway through the IPL was not a cricket decision, and it was not made by the coaching staff either.
Earlier, it was believed that the only reason Warner was sacked as a captain and had lost his place in the playing XI of SRH was that he was not hitting the ball fluently, and it was a decision made by the coaching staff as they wanted to try other overseas players, but Haddin denied that the coaching staff had any role in the decision.
According to Haddin, even though Warner had not been scoring runs, it was not really a question of form with him. It was a question of match practice and the only way to get that was to play some games and as it turned out recently in the T20 World Cup, when Warner got some game time, his fluency came back and he proved to be the most dangerous batsman in the competition to contain.
"It was not a cricket decision that he was not playing for Sunrisers Hyderabad. He (Warner) was hitting the ball well, circumstances were out of our control, even the coaching staff," Haddin said while speaking on the Warner issue on an English podcast The Grade Cricketer.
SRH fans would want to know the exact reason for the sacking of a legend like David Warner
It's really perplexing now for the SRH fans to understand if cricket was not the reason for David Warner to be dropped, then what exactly was the reason that the franchise ownership suddenly had to make the decision of dropping a legend of the club.
David Warner himself had also said it in one of his past interviews with Boria Majumdar that he did not understand what was the reason of his sudden exclusion because if it was because of form, one would expect what he has done for the team in the past would have some weight on his place in the XI.