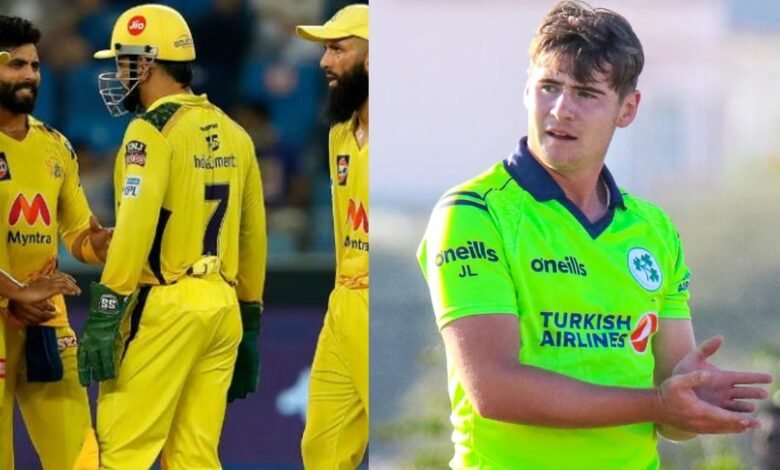 The Chennai Super Kings are the defending champions of the Indian Premier League. The Chennai-based franchise joined the league in 2008 and have captured the championship four times since the league's inception. CSK have started their preparations for IPL 2022 in Surat, and like the last few seasons, the Super Kings have signed a few net bowlers to assist them in the nets, with Josh Little being one of them.
Interestingly, one of the net bowlers of the Chennai Super Kings for IPL 2022 used to play hockey. The bowler's name is Josh Little who plays international cricket for the Ireland men's cricket team. Little was a hockey player and business student but is now a specialist death bowler for Ireland.
The rising star of Irish cricket is a 22-year-old left-arm fast bowler who has played for the Dambulla Giants in the Lanka Premier League. In an interview with ESPNCricinfo three years ago, Little revealed that he was inspired to become a cricketer after the Ireland cricket team's historic win over the England cricket team in the 2011 Cricket World Cup.
Explaining how he switched from hockey to cricket, Little said:
"I was playing hockey in school at the time with one of my mates, they're an Asian family and his dad was like, 'You've got hand-eye coordination, do you want to come down to our cricket club and just give it a go?"
Josh Little will help the CSK batters with practice in Surat
The CSK squad is preparing for the 2022 edition of the Indian Premier League in Surat at the Lalbhai Contractor Stadium. Little is expected to join the squad and start bowling to the likes of MS Dhoni, Robin Uthappa, Ambati Rayudu, Dwayne Bravo and others.
The Super Kings will have a different lineup this year as players like Faf du Plessis, Suresh Raina, Sam Curran and Shardul Thakur are not a part of the team. CSK will start their IPL 2022 season against KKR on March 26.