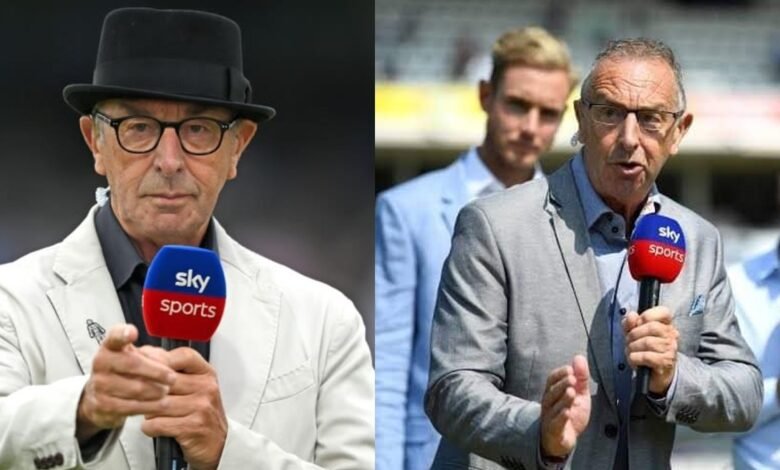 One of the most reputed commentators of all time, David Lloyd, has announced his retirement from television commentary after more than two decades of service to Sky Sports. Lloyd announced his retirement on Twitter today, thanking all his supporters and colleagues over the years.
David Lloyd is someone who served England cricket in different capacities at different stages of his career. Starting as a Lancashire player and later playing test cricket for England, Lloyd then went on to serve the England national team as a head coach, apart from working as an umpire as well in the county circuit of England.
However, it's Lloyd's commentary that earned him accolades all around the world for his unique way of narrating events on the ground and storytelling.
One of the highlights of Lloyd's commentary was the final of ODI World Cup 2011 where he was commentating during the final stages of the game with Ravi Shastri when India were getting close to chasing down Sri Lanka's total and winning the World Cup after 28 years.
Lloyd, in his retirement post, even mentioned some of the renowned commentators he worked with and Ravi Shastri was one of them, along with the Australian legend Shane Warne, the former West Indies fast bowler Ian Bishop and the former South African captain Shaun Pollock.
One of the reasons Lloyd mentioned for his retirement was the fact that some of his old colleagues had already retired, and he had started feeling emptiness in the commentary box. The former England opening batsman David Gower, who worked alongside Lloyd for many years, retired from Sky Sports a couple of years back and Michael Holding, another reputed broadcaster, also retired at the end of the last English season.
Sky Sports currently has got a very high-quality commentary team, led by Nasser Hussain, Mike Atherton and Robert Key, all three of whom have played a fair bit of test cricket for England and Nasser and Atherton have even captained England.
David Lloyd had recently apologized for comments on the Asian cricket community
David Lloyd had recently found himself in a bit of a controversy with regard to some of the comments that he made about the Asian cricket community in one of his private chats, and he formally apologized for it as well, but that isn't believed to have anything to do with the decision of his retirement.
Cricket fans on Twitter, most of whom have listened to Lloyd's commentary for a long time, paid tribute to the outgoing legend and wished him well for the future. Here is how Twitter reacted to the retirement of David Lloyd –
What a legend. https://t.co/uRU9TCUUFL

— Mushi (@The_Mushii) December 21, 2021
The man behind the microphone, true legend in the box. https://t.co/o9GCWIDxz7

— Leon Horn (@LeonLeonhorn) December 21, 2021
Nooooooo it's a sad day for cricket 😢 https://t.co/aCXMcsRxrx

— FLAN (@F14N_SP) December 21, 2021
Have just seen this and hugely sad for the game.

Very few commentators in any sport connect with an audience the way @BumbleCricket did on @SkyCricket

His knowledge, energy, effervescence & humour will be missed and always have been grateful for his company & advice. https://t.co/QnpfBwZdwJ

— Charles Dagnall (@CharlesDagnall) December 21, 2021
A legend of tie commentary box starts the car for the final time. Congratulations @BumbleCricket on a brilliant career and for bringing so much fun and joy to the game. 👏👏👏 https://t.co/y7OV9faT1T

— Simon Thomas (@SimonThomasTV) December 21, 2021
It comes to an end for us all at some point … few cricket broadcasters have entertained us much as David Lloyd … he leaves a legacy of wonderful memories laced with his inimitable humour .. well played 'Bumble' 👏 🏏 https://t.co/1t48rNL8VU

— Glenn Mitchell (@MitchellGlenn) December 21, 2021
Cricket won't be same 💔💔💔 https://t.co/W2zY6NgnzN

— Rammi Tinners-Hitter (@Just_Jason69) December 21, 2021
Hearing cricket just won't be the same 😢

A man who helped me, gave me advice and welcomed me when I got the privilege to work with him 🙌🏻

Thank you @BumbleCricket 🥰 https://t.co/r7XKv3PeMs

— Kate Cross (@katecross16) December 21, 2021
The best to ever do it. Great at his job and a great human being. All the best @bumblecricket https://t.co/87WLKjmHlX

— Liam Collins (@liamcollins97) December 21, 2021
No better on the cricket , never will be https://t.co/OaTDnQU3cX

— sam assalone (@therealassalone) December 21, 2021