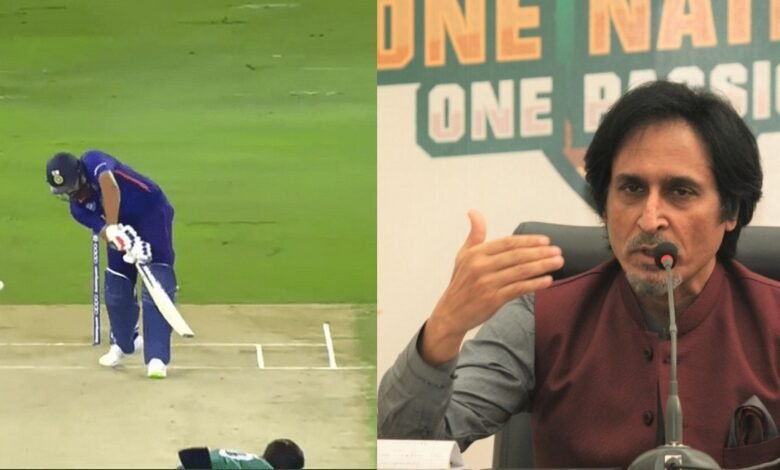 Ramiz Raja, the chairman of Pakistan Cricket Board (PCB), has disclosed that he had a meeting with the Pakistan captain Babar Azam and the chief selector Mohammad Wasim before the T20 World Cup, where a plan was formulated to dismiss the dangerous Indian opener Rohit Sharma in the highly anticipated encounter against India. And the plan that was discussed eventually worked against Rohit.
According to Ramiz, before leaving to the UAE for the World Cup, Babar came to meet him as he had already taken over as PCB chairman and when he asked Babar what plans Pakistan had for the Indian batsmen, Babar said the previous regime of the PCB had employed the Cricviz analysts who would find the matchups against different batsmen and the plans would be formulated on the basis of that.
Ramiz said he told Babar if he was using the Cricviz data to find the weaknesses of the Indian batsmen, then the Indian team would be doing the same to find the weaknesses of the Pakistani bowlers and they would also formulate their gameplans based on that. So, Pakistan couldn't be dependent only on Cricviz.
The PCB chairman gave Babar a game plan based on his own observation of Rohit Sharma. He asked Babar to use Shaheen Shah Afridi first up against Rohit when he is new to the crease, keep a short leg fielder and short fine leg on the 45-degree angle. The reason to keep that kind of field placement is to make sure Rohit doesn't find any easy singles on the leg side, and then ask Shaheen to bowl inswinging yorkers at full pace.
"I said get Shaheen Afridi bowling at 100mph, get a man at short-leg and a 45. Just bowl that inswinging yorker at 100mph," Ramiz Raja said in a conversation with BBC.
Babar Azam used the gameplan that was given to him by Ramiz Raja
Babar Azam went with exactly the same gameplan that Ramiz Raja gave him and as it turned out, Rohit was trapped plumb in front of the stumps by Shaheen with a yorker in the very first over of the Indian innings.
The game against India, from start to end, went pretty much according to what Pakistan would have hoped for, as after the kind of start they got with the new ball, India were always behind the game, even though they made a little bit of recovery in the middle period of the innings.
Pakistan, after beating India in their first game, went on to win all 5 out of their 5 games in the group stage of the T20 World Cup, before losing to Australia in the semi-final.