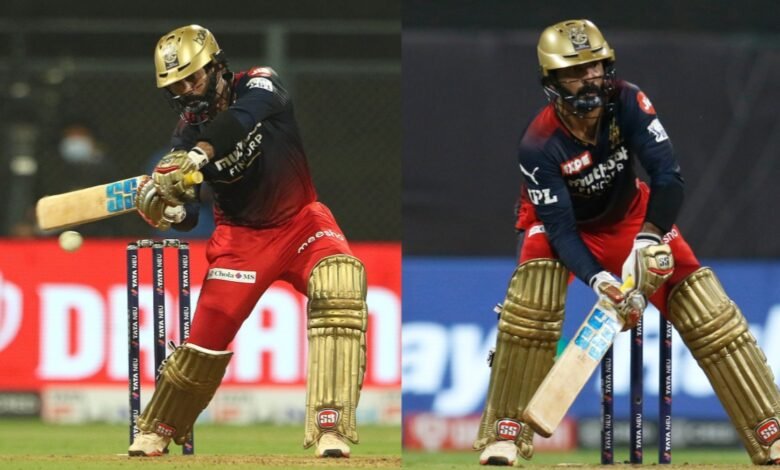 IPL 2022 has been a season of redemption for many players, and one of them is Dinesh Karthik. After spending four years with the Kolkata Knight Riders, Karthik moved to the Royal Challengers Bangalore ahead of the 2022 edition of the Indian Premier League. He has done an excellent job for the Bangalore-based franchise so far.
Karthik started the season with a 14-ball 32 against the Punjab Kings. He then played a match-winning cameo of 14 runs against the Kolkata Knight Riders and followed it up with a 23-ball 44 against the Rajasthan Royals. The wicket-keeper batter scored a two-ball seven against Mumbai Indians, while against Chennai Super Kings, his score was 34 runs from 14 balls.
Earlier tonight against the Delhi Capitals, Dinesh Karthik played his best knock of IPL 2022, aggregating 66 runs off just 34 deliveries. He hit five fours and five sixes in his entertaining innings. During an over bowled by Mustafizur Rahman, Karthik smacked four fours and two sixes, scoring a total of 28 runs.
Karthik's knock inspired the Royal Challengers Bangalore from 92/5 to 189/5. Glenn Maxwell scored a half-century for RCB before Karthik's innings. Here's what Maxwell told the host broadcasters after the RCB innings ended:
"Karthik was outstanding as he's been the whole season for us. He's only been dismissed once and almost got us over the line last game from a no hope situation. He's picking the gaps beautifully and his ball striking this season has been second to none."
Fans on Twitter want Dinesh Karthik in India's T20 World Cup squad
The Indian cricket team will participate in the 2022 edition of the ICC T20 World Cup scheduled to happen later this year in Australia. The squad for the mega event will be announced later this year, and fans on Twitter feel Karthik deserves a place after his excellent form in the 2022 IPL season for RCB so far. Here are the top reactions:
No matter how consistent or how many runs he scores in the rest of the tournament , He has done it until now every time when his team were in deep trouble and @DineshKarthik should be an automatic choice to be on the plane for t20 World Cup later this year.Agree ?

— Prasanna (@prasannalara) April 16, 2022
Dinesh Karthik for the T20 World Cup squad is a good shout. Remember, he was dropped from the T20I side due to his form in ODIs. #IPL2022

— Subhayan Chakraborty (@CricSubhayan) April 16, 2022
Don't you dare drop @DineshKarthik for the #T20worldcup @BCCI

— Dhaya Alagiri (@dhayaalagiri) April 16, 2022
We want Dinesh Karthik for T20 World cup !!!!!!!!! pic.twitter.com/uZiwHy4tB2

— Akshat (@AkshatOM10) April 16, 2022
Currently @DineshKarthik is in Red Hot form And perfect candidate for india as a finisher for T20 world cup 🔥#DK4T20WorldCup22

— Saurav 👽 (@saurav535) April 16, 2022
#RCBvsDC
No matter what if we win this IPL or not. Someone give this man a place in team India for T20 world cup! #dineshkarthik pic.twitter.com/ncUxG9Y82A

— virat love forever (@mrsyco46789960) April 16, 2022
Take a bow to Dinesh Karthik 💪
In my point of view #dineshkarthik has already fix his place in T20 WC #T20worldcup #GOAT𓃵 pic.twitter.com/VH0rdjImJA

— Ashutosh Srivastava (@kingashu1008) April 16, 2022
People trolled @DineshKarthik when he said "He wants to be finisher for India" on 30 January 2022 to ANI.

Now the same people wanted him to be part of @T20WorldCup 2022. pic.twitter.com/ar9YqplXY7

— Don't Take Me Seriously🗨️ (@OO0OO000000) April 16, 2022
Organise the T20 World Cup rn and Dinesh Karthik, alone will win it for India 😭🙏🏻

— Shrutika Gaekwad (@Shrutika_45_) April 16, 2022
What a dream #IPL2022 Dinesh Karthik having and well deserved half century.

🔥4,4,4,6,6,4 against one of the best Mustafizur Rahman 🔥@bcci please fix @DineshKarthik
name this year #T20worldcup#RCBvsDC #dineshkarthik pic.twitter.com/wgOkDt67zj#RCBvsDC pic.twitter.com/MR8h3i1iSJ

— Vinay Kulkarni (@vinayk_415) April 16, 2022
Is DK now capable for t20 World Cup as a finisher ??#RCBvsDC #dk #dineshkarthik #IPL #starikelungal pic.twitter.com/dHrzMfnzBS

— Vicky_curz (@vickycurz7) April 16, 2022
WE NEED DINESH KARTHIK AS A FINISHER FOR T20 WORLD CUP pic.twitter.com/nnNYUQX081

— ꌗꂦꃅꍏꀤ꒒ꪜ (@iamsohail__1) April 16, 2022
BCCI to Dinesh Karthik after this innings:

#RCBvsDC #DCvRCB #T20worldcup pic.twitter.com/C28vP8MhSN

— Prince Pandey🍁🦜 (@princepandey_) April 16, 2022
Everytime you think Dinesh Karthik is done, he comes back and surprises you in his own magnificent way. Truly, not finished and very much in race for a spot in the T20 World Cup. #IPL2022 #DCvRCB

— Sameer Allana (@HitmanCricket) April 16, 2022