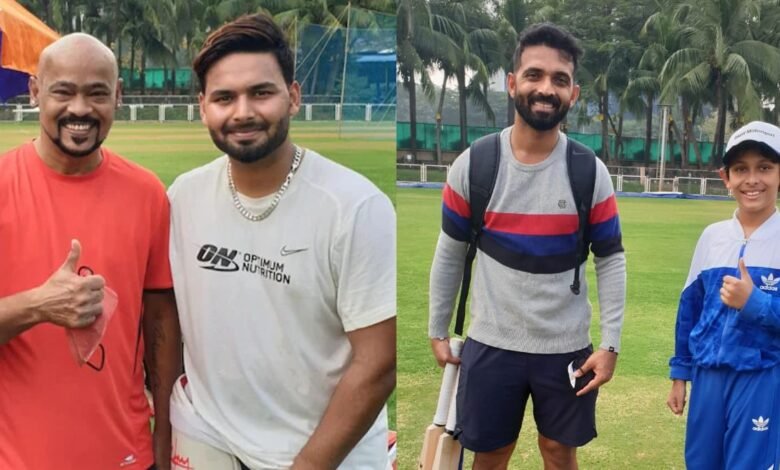 The former Indian vice-captain Ajinkya Rahane and the first choice Indian test wicketkeeper, Rishabh Pant, recently spent some time with the former Indian left-hander Vinod Kambli and trained under him in Mumbai, before they joined team India's bio bubble ahead of South Africa tour.
Vinod Kambli is someone who didn't really have a very long test career for India, but he was rated as one of the best youngsters to have emerged out of Mumbai cricket when he came through the ranks and broke into the Indian national team.
Some people actually rated Kambli as good as Sachin Tendulkar in the initial days of his international career when he scored back to back double hundreds. There was some merit to that argument as well because Kambli seemed to have every shot in the book, just like Tendulkar.
However, what Kambli lacked was the application of Tendulkar. While Tendulkar went from strength to strength, Kambli faded away after a brief rise. Most of the fellow cricketers who played alongside Kambli in the 90s still rate him as an extraordinary and special talent who couldn't maximise his potential. Kambli, although his test career ended only after 17 test matches, still holds an average of close to 55 in test match cricket.
Vinod Kambli isn't into coaching but remains around Mumbai cricket circles
Vinod Kambli, since his retirement, hasn't been involved in coaching, but since he remains around the Mumbai cricket circles and both Rahane and Pant were in Mumbai the past couple of weeks, they probably thought it was good to have a few training sessions under him.
While Rahane has been struggling with his form in test match cricket and has lost both his spot in the playing XI and his test vice-captaincy, Pant has been scoring fluently and is an established member of India's playing XI at the moment, but he would surely have got something to learn from a wealth of experience that Kambli has. Since Kambli was also a left-hander, he might have helped Pant with some technical aspects of batting as well.
Kambli himself shared pictures of both Rahane and Pant after both the Indian players joined India's bio bubble before their flight to South Africa, where they will be playing 3 test matches and 3 T20 internationals. While Pant will be a part of India's squad for both formats, Rahane has been picked only for test matches. Rahane, however, is not a guaranteed pick in India's test playing XI anymore.
Was a pleasure to help Ajinkya & Rishabh train for the upcoming South Africa series. Shared some valuable insights with them about the SA conditions. My best wishes to them for #SAvIND series.
P.S. Christiano got some lessons as well 😄 pic.twitter.com/bi0aRuyJHj

— Vinod Kambli (@vinodkambli349) December 13, 2021