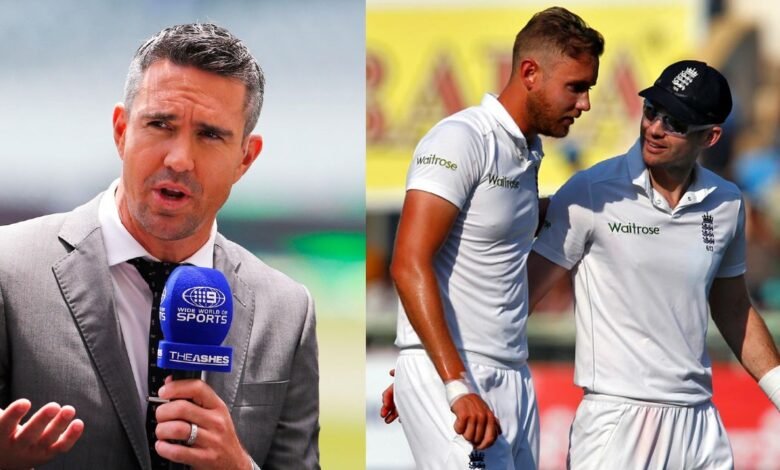 After the 4-0 Ashes drubbing, it was expected that there would be some massive changes in the England Cricket Team. The coaching staff were sacked and now, the management has made some changes in the squad as well. England's next Test assignment will be against West Indies. The teams will clash in three games, starting on March 8th. England has announced the squad and it does not include the successful duo of James Anderson and Stuart Broad. In this article, we take a look at what Kevin Pietersen had to say after Broad and Anderson were sidelined for the West Indies series.
Broad and Anderson sidelined for West Indies assignment
James Anderson and Stuart Broad are the greatest Test bowlers that England has seen. While Anderson is the highest wicket-taker for the nation with 640 scalps, Broad is second on the list with 537 wickets. The next best is Ian Botham with 383 wickets. This shows the level of impact that the duo had on English cricket.
However, it seems that the management has decided to move on from the famed pair. Despite a decent bowling effort at the Ashes, it is this department that has undergone a change. Hence, a few were surprised.
Kevin Pietersen says the duo must say goodbye on the field
Meanwhile, Kevin Pietersen has come out with a reaction as theories started floating about the futures of the pace duo. Here is what the former English skipper had to say:
Broad – 152 Tests
Anderson – 169 Tests

On par with Ambrose/Walsh, Younis/Akram, Donald/Pollock etc.

If they don't get a chance to say goodbye to English cricket ON THE FIELD, then it's an absolute DISGRACE!

— Kevin Pietersen🦏 (@KP24) February 14, 2022
Kevin Pietersen argued that if England has decided to move on from both pacers, it has to happen on the field. Both the fast bowlers have played more than 150 Tests for the country. This is a big number for any player at any point in the history of the game. Like KP mentioned, the duo is par with the likes of Waqar Younis – Wasim Akram and others. Hence, he said that Broad and Anderson must receive a farewell game. However, considering the World Test Championship is on the line, it needs to be seen as to how ECB can pull it off.