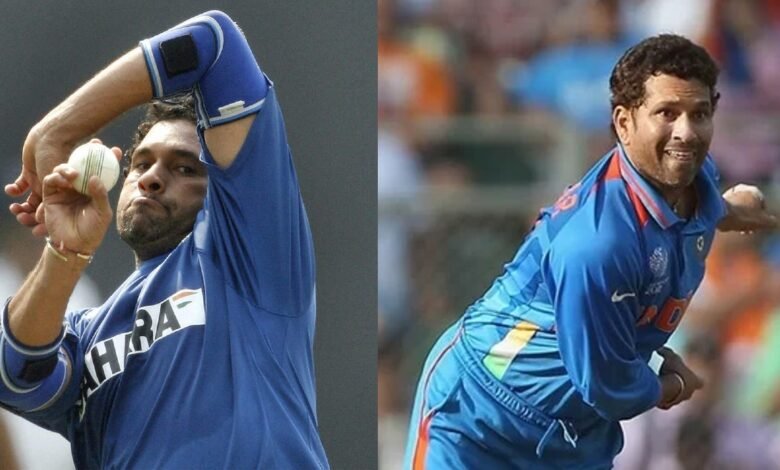 Depending on the pitch and the conditions, a few players have opted to bowl both pace and spin in their careers. This is, of course, against the general trend that bowlers pick only one kind of bowling attribute. Bowlers usually do not take up both pace and spin bowling in equal measures in their career. One reason is that they are not adept skill-wise and the other is due to the risk of injuries of doing something that they are not used to doing. Recently, English pacer Ollie Robinson chose to bowl off-spin in the second Ashes Test. On that note, in this article, we take a look at seven famous players who have bowled both pace and spin in International Cricket so far.
1) Sachin Tendulkar
Sachin Tendulkar is one of the famous players who have bowled both pace and spin in International Cricket so far. It needs to be noted that Sachin was a useful bowler in the initial years of his career. In fact, to show for it, he has got 154 ODI wickets. While he often bowled leg-spin, Sachin has also resorted to pace-bowling. In one of his interviews, Sachin mentioned that he wanted to become a fast bowler. This could have prompted him to also try it out at the highest level.
2) Kapil Dev
Yes, you heard that right! Arguably one of the greatest pacers that India has seen, Kapil Dev has also tried the other craft in his career. Back in 1985 in a game against New Zealand, Kapil opted to bowl spin when the Kiwis needed 22 runs of just one ball. With the game already in the bag, Kapil Dev became an off-spinner for a delivery.
3) Andrew Symonds
In recent years, Andrew Symonds is one player who regularly switched between pace bowling and spin bowling. This was dependent on what the team wanted and also what was working for him. In all, the former Aussie all-rounder collected a total of 165 International wickets.
4) Manoj Prabhakar
Manoj Prabhakar is an all-rounder who was a consistent part of Team India in the past. While he was a proper medium-pacer, Manoj has also bowled spin. In a game against Sri Lanka in the 1996 World Cup, Manoj had a difficult start to the encounter with the ball. Hence, when he was brought for another spell, Manoj took to spin bowling. Although his economy improved, the dent in the overall figures from the first few overs could not be recovered.
5) Sohail Tanvir
Sohail Tanvir is popular as a pacer. He has done well for Pakistan across all formats. However, on some occasions, he has also performed as a spinner. In the 2007 Test Match against India in Kolkata, the Pakistan player took to spin bowling apart from his regular fare of fast bowling.
6) Ben Stokes
Ben Stokes is also a part of this list of players who have bowled both pace and spin. In Stokes case, bowling spin was a one-off case. Against Pakistan a few years ago, England was struggling to pick a wicket. Shoaib Malik had got his double hundred and it was a difficult situation for England. Hence, Ben Stokes decided to bowl off-spin to try and change things.
7) Rohit Sharma
Rohit Sharma was known for his off-spin during his younger days. He bowled for India and also in the IPL. He also has an IPL hat trick to his name. Earlier this year in Australia, after Navdeep Saini walked off the field, Rohit Sharma was asked to complete the over. While viewers expected him to bowl off-spin, Rohit instead bowled medium pace.