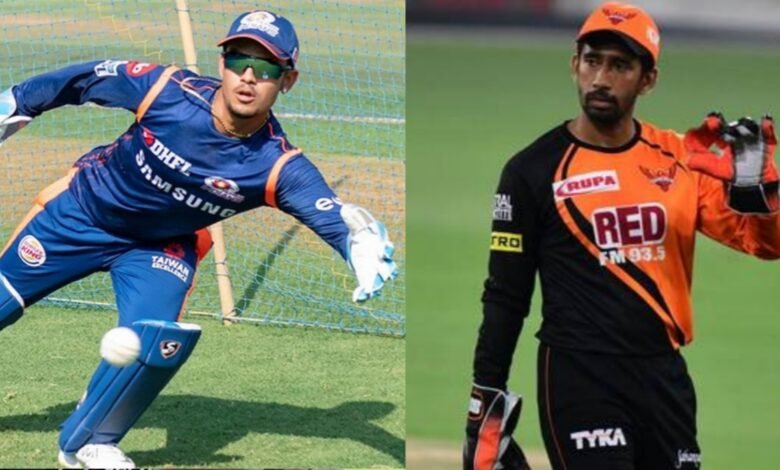 The 2022 season of the IPL will see all teams being revamped. Two new teams are going to be added to the tournament next season. There are going to be a lot of talented players in the auctions. New teams bring new combinations. Every team needs a good wicketkeeper behind the wickets. So today we will take a look at 6 Indian wicket-keepers for new teams in the 2022 IPL auction.
#1. Ishan Kishan
Ishan Kishan is one of India's fastest rising cricketers. The talented batsman was the leading run-scorer for Mumbai Indians in 2020, scoring 516 runs at an average of 57.33. Thus, he subsequently made his international debut. However, it is almost certain that Kishan will be released by the Mumbai franchise. Players like Hardik Pandya, Jasprit Bumrah and Rohit Sharma are far more important for the top brass.
In addition to being an explosive batsman, Kishan is also an extremely competent wicket-keeper. He has taken 195 catches in his career. Kishan has also affected 22 stumpings and 12 run-outs. Having a player like Kishan brings a deadly batsman and a great wicket-keeper to the team. Thus, this makes him one of the probable top picks next season.
#2. Narayan Jagadeesan
Narayan Jagadeesan is an Indian cricketer who plays for Chennai Super Kings in the IPL. Jagadeesan is a talented batsman. He was the leading run-scorer in the 2020–21 Syed Mushtaq Ali Trophy, and Tamil Nadu's highest run-scorer in the 2020–21 Vijay Hazare Trophy.
In the wicket-keeping department, he is no slouch. Jagadeesan has taken 80 catches and affected 5 run-outs and 8 stumpings in his career. Any team looking to invest in its future could pick Jagadeesan as their primary wicket-keeper batsman.
#3. Dinesh Karthik
Dinesh Karthik is an Indian veteran. Throughout his career, he has been a stand-in wicket-keeper for India. Karthik is a versatile player and can be a middle-order player or a finisher according to the situation. He has captained the KKR franchise in the IPL. However, following a poor season for KKR, there's a chance that he might get released.
Karthik is a phenomenal wicket-keeper. In his IPL career alone, Karthik has taken 121 catches. In addition to it, he has affected 13 run-outs and 31 stumpings.
#4. KS Bharat
KS Bharat, aka Srikar Bharat, is one of the best young talents in India today. Not only is he a great wicket-keeper, but also a phenomenal batsman. Bharat is the first wicket-keeper batsman to get a triple hundred in the Ranji Trophy. In addition to this, he is also inching his way into the national team.
Bharat was selected as a cover for Wriddhiman Saha for India's Test team for their series against England in May 2021. He is someone who can perform well under pressure, and thus would be a great fit for any IPL team in the 2022 IPL auction.
#5. Mohammed Azharuddeen
Over the past couple of years, Mohammed Azharuddeen has experienced a great run in his career. On January 13 in the 2020–21 Syed Mushtaq Ali Trophy, Azharuddeen became the first Kerala batsman to score a century in a T20 match. He hit the century in 37 balls, which is the second-fastest century in the tournament.
Azharuddeen is not only a great batsman, but also a competent wicket-keeper. He is someone who can be a great option as a wicket-keeper, while also being a great finisher for the team.
#6. Wriddhiman Saha
Wriddhiman Saha is an Indian veteran and plays for Bengal in the domestic circuit. Over the years, Saha is constantly in the mix of things when it comes to the national team. Saha is an explosive batsman and is very calm under pressure. Saha was the first batsman to hit a century in an IPL final. He also boasts of a healthy strike rate of 132.54 in T20s. With the 2022 auction coming up, there's a good chance that Sunrisers Hyderabad release Saha.
In his career, Saha has affected more than 100 dismissals as a wicket-keeper. There is no doubt that he is an asset for any team that buys him. It will come as no surprise to anyone if Saha is bought immediately in the 2022 IPL auction.