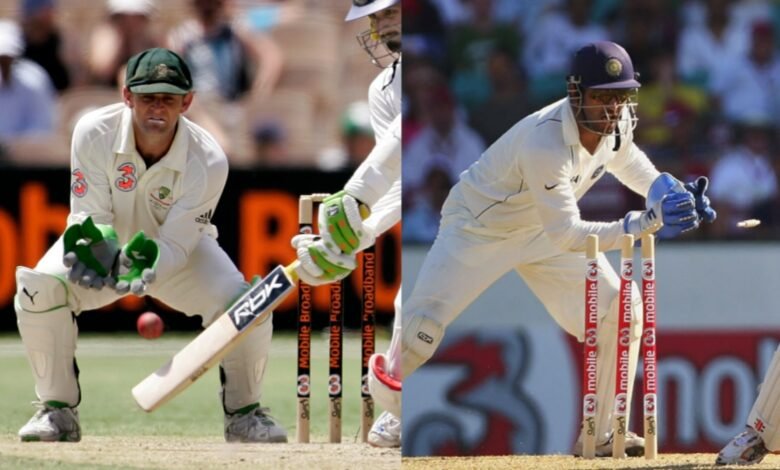 Wicket-keeping is a challenging skill in the five-day format. While the load on your back is one reason, the other is the tremendous pressure for a keeper to be the best at his/her job. Teams rely on edges being caught behind, and even one such opportunity cannot be afforded to go waste. On the other hand, stumpings are rare in Tests. Since batters usually stay within the crease, the chance to stump them out is very minimal. On that note, in this article, we take a look at five wicket-keepers who have made the most stumpings in Test cricket so far.
5) Adam Gilchrist (India) – 37
Matches: 96 || Runs Scored: 5570 || Wicket-Keeping Dismissals: 416 || Catch-Out: 379
Very few wicket-keepers have a dismissal per inning ratio of above two. Of this illustrious list, former Aussie wicket-keeper is one of the superstar members. Although he initially looked like missing the finesses and acrobatic ability a wicket-keeper needs, Gilly took very little time to reset the opinions.
He happens to be the second most successful wicketkeeper in Tests at the moment. In fact, the day before he announced his retirement, the southpaw was at the top of the list. Despite mostly keeping wickets to pacers on the green Aussie tracks, Gilchrist still has 37 stumpings to his name.
4) Syed Kirmani (India) – 38
Matches: 88 || Runs Scored: 2759 || Wicket-Keeping Dismissals: 198 || Catch-Out: 160
The winner of the 1983 World Cup, Syed Kirmani was behind the stumps for Team India for almost twelve years. During this span, he kept wickets to India's famous spin quartet – E Prasanna, S Venkataraghavan, B Chandrashekar and BS Bedi. Later, he was also the man behind the wickets when Kapil Dev picked most of his scalps.
During that era, the concept of specialist wicket-keepers was prevalent. Although they contributed with the bat often, their primary role was with the gloves, unlike today. Syed Kirmani fulfilled his role to perfection and retired as one of the most successful keepers for Team India.
3) MS Dhoni (India) – 38
Matches: 90 || Runs Scored: 4876 || Wicket-Keeping Dismissals: 294 || Catch-Out: 256
Across all the formats combined, MS Dhoni has got the most number of International stumpings. However, he stands third in this list of wicket-keepers who have made the most stumpings in Test cricket. Dhoni is also the most successful wicket-keeper captain in the format. He has played 60 games as a captain in Tests, a feat which no other keeper has even come close to.
There is no introduction to the reflexes and awareness of MS Dhoni behind the stumps. Having kept to legendary spinners like Anil Kumble, R Ashwin and Harbhajan Singh, it's of no surprise that MSD finds himself in this list.
2) Godfrey Evans (England) – 46
Matches: 91 || Runs Scored: 2439 || Wicket-Keeping Dismissals: 219 || Catch-Out: 173
Godfrey Evans may not feature in the other statistics list, but the brilliance he brought behind the stumps, very few have been able to emulate. He was an extremely fit cricketer, who was known for his charisma and energy behind the stumps. The Englishman did not hesitate to experiment, and this helped his bowlers be more confident.
Over his career, Evans took 173 catches apart from the 46 stumpings that have got him qualified to this list. Regarding the stumpings, he was popular for the lightning speed with which he executed them. He also did decently well with the bat, scoring two centuries for his country.
1) Bert Oldfield (Australia) – 52
Matches: 54 || Runs Scored: 1427 || Wicket-Keeping Dismissals: 130 || Catch-Out: 78
Bert Oldfield tops this list of wicket-keepers who have made the most stumpings in Test cricket. The stats themselves speak of the stumping machine that he was. Despite playing only half of the games that most successful keepers have played, the Aussie has still got more stumpings than all of them.
Famous for his four stumpings in a single innings back in 1925, including players like Jack Hobbs, Oldfield was small in frame but extremely effective behind the stumps. In A Test career that lasted seventeen years, he also took 78 catches apart from the 52 stumpings.