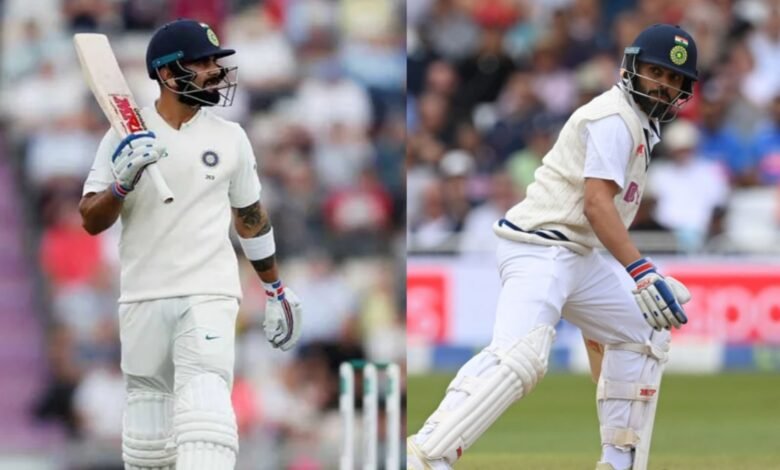 Virat Kohli registered an unwanted record after he got out without scoring on the first ball in the ongoing Test against England, Kohli now has three golden ducks in Tests as an Indian captain, more than any other. The Indian skipper doesn't have the best batting record against England, in fact, he has been dismissed for a duck six times against them. In this article, we look at the 5 times Virat Kohli got out on a duck against England.
#5. 0 (1) against England, The Oval, 7th September 2018
After having a horrendous tour to England in 2014, Virat was more determined than ever to answer all his critics this time around. His two tons and three 50s in 11 innings was his response to bury his past in English conditions. In the fifth and the last Test of the tour, Virat was dismissed for 49 in his first innings, where he was looking set to score a big knock. In the second innings, Kohli had to handle a very crucial situation.
England's James Anderson sent both Shikhar Dhawan and Pujara back to the pavilion in his second over. In the next over, Virat had to face Stuart Broad in a very tense situation, an outswinger by Broad left Virat questioned as he just nicked the ball which went straight into the hands of the wicketkeeper.
#4. 0 (1) against England, MA Chidambaram Stadium, 13th February 2021
A player like Virat has created and broken a lot of records but on 13th February, he registered an unwanted name to himself as he overtook MS Dhoni to register the 2nd most ducks in International Cricket among Indian captains. This was Virat's 12th duck in Test cricket, as an Indian skipper. It came in the first innings of the second test being played between India and England, Moeen Ali tossed the ball off stump which forced Virat to come forward. The ball shockingly turned towards the wicket, leaving Virat shell shocked as the bails came off, he did not see this coming at all.
With this beauty of a delivery, Moeen Ali also became the first spinner to dismiss Virat Kohli for a duck by a spinner in International cricket. As expected, England celebrated the massive wicket of Virat while there was a pin drop silence in the Chepauk.
#3. 0 (1) against England, Trent Bridge, 5th August, 2021
In the ongoing India tour of England, Virat Kohli created an unwanted record as a captain on the second day of the first Test match at Trent Bridge. For Virat, his infamous scars of the 2014 tour of England came back and that too he was dismissed by pacer James Anderson yet again. Anderson troubled Virat a lot in 2014 as well, with dark clouds hovering over the stadium, James did what he does best, attack the off-stump. Virat walked onto the pitch after Cheteshwar Pujara got dismissed.
James Anderson was able to achieve two wickets on successive balls, as he claimed the wicket of the Indian skipper on the very next ball as well. Off the stump swinger which just nicked the bat of Virat, went straight into the hands of the wicketkeeper, this dismissal makes Virat the Indian skipper with the most golden ducks in Test cricket.
#2. 0 (8) against England, Motera Stadium, 5th March 2021
The Indian skipper was dismissed for a duck by all-rounder, Ben Stokes during the first innings of day 2 in the 4th test of the England tour of India. After Pujara walked back to the pavilion, Virat came out to bat in a crucial position. Kohli took his time to settle for the first seven deliveries he faced, but was outdone by Stokes on the 8th ball. The all-rounder bowled a short-pitched ball that rose, by the time Virat realized that it was too late as he has already mistimed his shot which went straight into the hands of the keeper.
Virat's inconsistent form continued in this series as he was previously bowled for a duck by Moeen Ali as well, this was also the only second series in which the Indian skipper has two ducks.
#1. 0 (5) against England, Motera Stadium, 12th March 2021
Extending the wait for his 71st ton, Virat Kohli failed to score big yet again in the England tour of India series. Kohli was dismissed on a 5 ball duck by Adil Rashid, who teamed up with Chris Jordan who caught the catch as England celebrated the Indian maestro's wicket. As Virat walked back to the pavilion without scoring, he also became India's captain with the most ducks to his name in international cricket.
Kohli leapfrogged Ganguly who has 14 ducks to his name as he takes a place in this unwanted list. Following this dismissal, Virat also registered two consecutive ducks across his 475 innings in international cricket. He also became the 4th Indian batsman with most dismissals in international cricket.