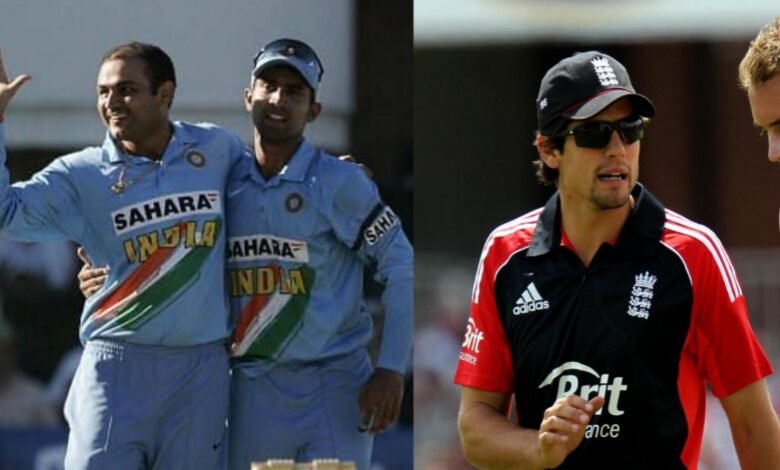 Becoming the captain of your country is a memorable achievement for a player. Usually, the practice is such that the best performing players are given the captaincy responsibility. However, so far, we have witnessed several cricketers who have failed with this task. In this article, we talk about five popular players who have captained only one T20 International.
Captaincy and a cricket team together define an era. If a player is at the helm for a long time, it is possible that good cricketers in that era may not get a chance to captain their country. Only if the main captain misses out, these players can get the armband. This occurrence has become more prominent with the advent of T20 cricket.
1. Virender Sehwag
When the T20 format was floated, the first captaincy choice that came to everyone's mind for Team India was Virender Sehwag. The management also felt the same and gave Viru the captaincy for India's first-ever T20I in 2006. This happened on a tour to South Africa, and Rahul Dravid was named the captain for the other two formats.
However, this was the only T20I that Sehwag could captain. India won that game, and Sehwag had top-scored for Team India with 34 runs from 29 deliveries. A few months later, Team India was knocked out of the 2007 50-over World Cup, and there was a necessity for a change. It was then that MS Dhoni was appointed as the captain of the team for the 2007 T20 World Cup.
2. Inzamam-ul-Haq
Just like Virender Sehwag, Inzamam-ul-Haq too captained for his country's first-ever T20 game, again in 2006. Hence, he is also one of the players who have captained only one T20 International. However, unlike Viru, Inzy was captain of his country for a while in other formats. In 87 ODI matches, he helped Pak win 51 games while in 31 Tests, he took his country home in eleven encounters.
While Younis Khan was given the responsibility for Pakistan's second T20I game, the management then handed over the duties to Shoaib Malik from the third T20I match. Malik then led Pakistan in the 2007 T20 World Cup.
3. Shane Watson
Shane Watson, a prolific performer for Australia, has actually not had much of an opportunity to prove his leadership abilities. The all-rounder could captain 9 ODI games, one Test match and one T20I encounter in his career.
However, in the sole T20I that he captained for Australia in 2016, Watto broke multiple records. Replacing the injured Aaron Finch as the captain, the player decided to open after a long time at the SCG. He struck 124 runs and got to his first T20I century against the touring Indian team. It was also the first T20I century that was scored against India. Hence, Watto also became the first batsman to score a century against the Indians in all three formats. Despite a solid performance by their skipper, Australia could not defend the total and India came on the winning side.
4. Shaun Pollock
It was under difficult circumstances that Shaun Pollock took up the South African captaincy. After Hansie Cronje was banned, Pollock did well to stabilize the national team. However, after the failure in the 2003 World Cup, Pollock had to move away from the job.
In the total of twelve T20I's that he played between 2005 and 2008, Pollock was the captain for one game in 2007. Graeme Smith was unavailable and hence, the bowling all-rounder had to step in. It was not a good outing, as West Indies won that rain-affected game comfortably after they restricted the Proteas to 58/8 in 13 overs. Interestingly, Pollock led Mumbai Indians in IPL 2008 for four matches and won three out of them.
5. Alastair Cook
Alastair Cook was never known to be a reliable limited-overs cricketers. The fact that he has played just a total of 96 limited-overs games despite being a Test great for England speaks a lot. Out of these 96 games, Cook played four T20I's and also captained one of them in 2009. Hence, he is also one of the players who have captained only one T20 International.
It was under strange circumstances that Cook got the captaincy duties for this game. Paul Collingwood, the T20I captain, withdrew before the toss and hence, Cook had to take up the task. However, he did not have a memorable outing with the responsibility. South Africa got to 241 runs in the first innings and did not give England a way back in the game.