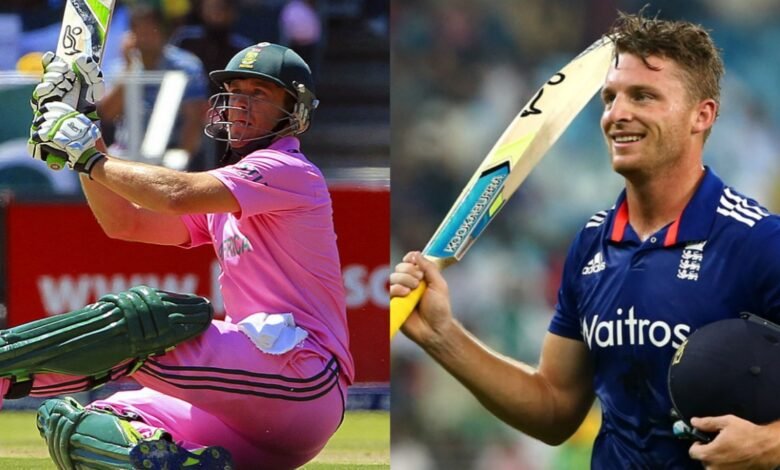 ODI cricket is the second-oldest format of cricket. Many legends have come and made their mark in this format. Scoring a century is a prestigious achievement for any batsman at the international level. Explosive centuries are even more exciting to watch for the viewers. Any cricketer who can score runs quickly, but surely is an asset for the team. Their chances of getting selected increase drastically if they have a fast, but dependable style of playing. Over the years, many explosive cricketers caused destruction in the middle. Today, we will take a look at 5 players who hit the most number of ODI centuries in less than 75 balls.
#1. AB de Villiers- 9 ODI centuries
AB de Villiers is one of the best cricketers South Africa has ever produced. The talented wicket-keeper batsman is a phenomenal batsman and is nicknamed 'Mr. 360' for his ability to hit shots all over the ground. Thus, his explosive batting style was bound to land him an appearance on this list.
AB de Villiers has hit 9 ODI centuries in less than 75 balls. De Villiers won ICC ODI Player of the Year three times in his illustrious career. His highest score from these centuries was 162* from 52 balls against West Indies in 2015. In this innings, he hit 8 sixes and 17 fours.
#2. Jos Buttler- 7 ODI centuries
Jos Buttler is a wicket-keeper batsman, and one of the most explosive batsmen in cricket today. The English cricketer is a wanted commodity in limited-overs cricket. Buttler has made his mark especially in ODIs and T20s and is the vice-captain of the international side in limited-overs cricket.
In his ODI career, Buttler has hit 9 centuries. Off these 9, 7 were scored in less than 75 balls. He hit these centuries against Pakistan, New Zealand, Sri Lanka, West Indies and South Africa. The highest score from these centuries is 150 from 60 balls. He did so against West Indies in 2019.
#3. Virender Sehwag- 6 ODI centuries
Virender Sehwag was an Indian batting mainstay in his prime. The Delhi batsman was famous for his explosive batting style, and carefree attitude.
Sehwag scored 8273 runs at an average of 35 in One Day Internationals. He features third on this list, with 6 centuries under 75 balls. He scored these centuries against Sri Lanka, New Zealand, England and West Indies. His highest was the 219 from 69 balls against West Indies. At that time, his score of 219 was the highest ODI score.
#4. Sanath Jayasuriya- 5 centuries
Sanath Jayasuriya is a former Sri Lankan captain and is one of the greatest batsmen of all time. He was a part of arguably the strongest team the island has ever produced. Jayasuriya was a dependable batsman and was known for his attacking style.
Sanath racked up a huge tally of 13430 runs in ODI cricket, and 28 centuries. Out of these 28, Jayasuriya hit 5 centuries which were scored in less than 75 balls. He scored these centuries against teams like the Netherlands, Bangladesh, Pakistan, India, and New Zealand.
#5. Shahid Afridi- 4 centuries
Shahid Afridi is a Pakistani legend. He became famous due to his explosive hitting and great bowling exploits. Afridi was nicknamed 'Boom Boom' for his ability to hit huge shots in the ground. Afridi was a beast in ODI cricket and was the world record holder for the fastest ODI century from 37 deliveries.
Afridi also has the record of having hit the most sixes in the history of One Day Internationals. In his ODI career, he hit 6 centuries with the highest score of 124. Out of these 6 centuries, 4 of those were hit in less than 75 balls.