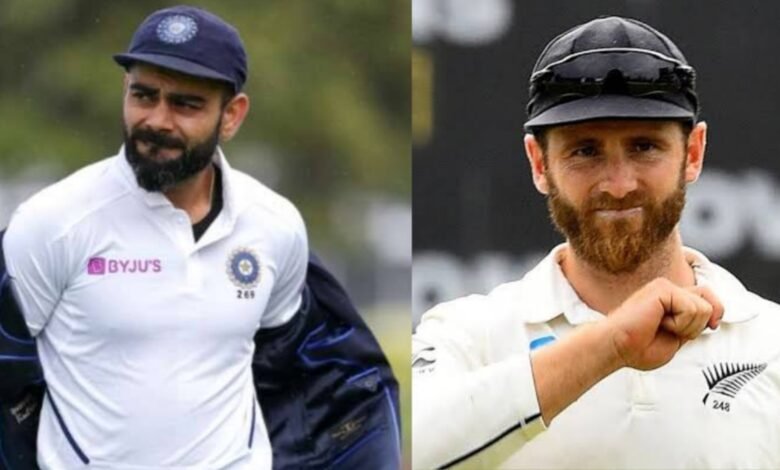 Indian Cricket Team's next big challenge is the ICC World Test Championship final against New Zealand next month. Both teams have gone through some tough grind in this two-year-long championship to book their place in this showdown for the inaugural Test title. With the final set to be hosted at Southampton, both teams have a fair chance of winning. Both teams have a 60% success rate in tests under their current captains. And, where New Zealand has not played a single test on England soil since 2015, India has lost most of theirs. So, there cannot be a more evenly poised contest than this to end a grand tournament like the World Test Championship. It will be interesting to see who steps up to be the game-changer for his team in this contest. So let's look at five players who can be the man of the match in the WTC final.
Players who can win the man of the match award in the WTC final:
#1 Virat Kohli:
Virat Kohli's batting numbers in England after his 2014 woes are exceptional. The captain of the Indian Cricket Team has scored 593 runs from five matches in England since 2015. He has accumulated these runs at an average of 59.3. While stacking these piles of runs, Kohli has scored two centuries and three half-centuries in the span of just ten innings.
Although Kohli hasn't hit a test century in a long time, we can expect the WTC final to be the right place and right time for his next one. Kohli went through a rough patch last year, but since the series against England, he seems to be in good touch. So if there is anyone who we can bet our money on to win the man of the match in the WTC final, Virat Kohli is his name.
#2 Kane Williamson:
Kane Williamson's current form in Test cricket is penetrating through the skies. His batting figures in tests in the past 12 months are way too good. Williamson has scored 639 runs in his last three test matches with a skyrocketing average of 159.75. This massive stack of runs includes three centuries with a high score of 251.
Williamson has hit two double since last year. He smashed 251 against West Indies in 2020 and 238 against Pakistan earlier this year. Apart from this, Williamson is also the third-highest run-getter for New Zealand and one of the only two batters to hit a century on English pitches in the last decade. So, there is a very high probability of him winning the man of the match award in the WTC final.
#3 Cheteshwar Pujara:
Cheteshwar Pujara is probably the only proper test batter in the cricketing world at the moment. He is also the best test batter among the current Indian test players. Pujara is the seventh-highest run-getter of all time for India in tests played in England. He has scored 1472 runs from 22 matches in England. Pujara is also the second-highest run-scorer in England among India's active test players today after Virat Kohli. Pujara can wear down opposition bowlers by himself and take pressure off his partner. This ability of his makes him a game-changer in every single test match.
#4 Trent Boult:
Trent Boult is the highest wicket-taker among the active bowlers for New Zealand in tests played in England. He has taken 21 wickets from just four matches on English pitches with a bowling average of 23.14. Boult has registered two 5-wicket-hauls in just four games in England. He is one of the deadliest swing bowlers around the world at the moment. And coming from some good bowling displays, Trent Boult is one of the top contenders to grab the man of the match award in the WTC final.
#5 Ishant Sharma:
Ishant Sharma is the joint highest wicket-taker for India in tests played on England soil. He has taken 43 wickets from 12 matches at a bowling average of 33.9 in England. Ishant has everything that a pace bowler requires while bowling on the green pitches of England. He has the required height, pace, bounce, and ability to swing and reverse the red ball. With this deadly combination, he is a probable candidate to win the man of the match award in the WTC final.