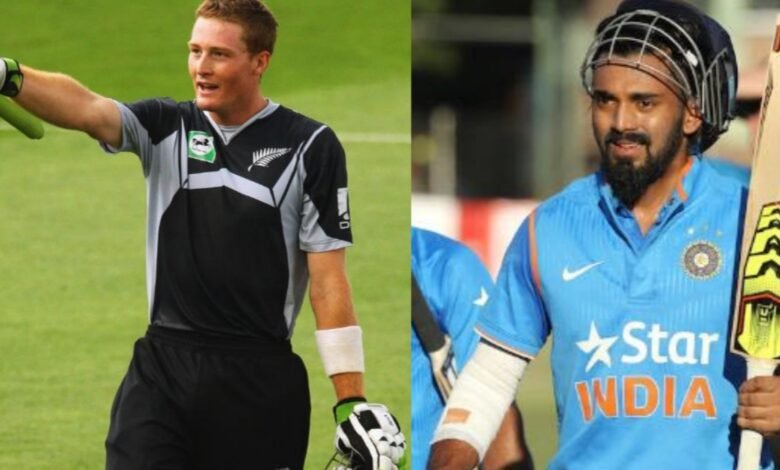 A debuting cricketer is looked at by the viewers with great critique. A great debut opens up future opportunities for the debutant. To perform well in their first match is the wish of every player. Batsmen like Shubman Gill, Shikhar Dhawan etc. are great examples of having debuts explosive debuts and are now in regular contention for international cricket. For a budding batsman eager to make a name in the sport, scoring a century is a big thing. Doing so in their very first match is just the cherry on top. Today we will take a look at 5 players who scored an ODI century on their debut.
#1. KL Rahul
KL Rahul experienced great debuts in Tests as well as ODIs. He made his ODI debut in a match against Zimbabwe in 2016. He became the first Indian to score an ODI century on debut. Rahul scored an unbeaten 100 from 115 balls. His century led India to a 9-wicket win over Zimbabwe.
Rahul was consistent in the 3-match ODI series and was thus declared the Player of the Series in the end. Rahul has gone from strength to strength since and is a regular fixture in the Indian cricket team.
#2. Colin Ingram
Colin Ingram didn't get featured too much at the international level but had a dream ODI debut. He made his debut when South Africa played Zimbabwe in 2010. Ingram scored 124 runs from 126 balls. His century helped South Africa reach 351/6 in their 50 overs.
Zimbabwe couldn't reach the target and lost the match by 64 runs. Ingram was declared the Player of the match for his century. He was the first South African ever to score an ODI century on debut.
#3. Philip Hughes
Philip Hughes was a talented batsman, who sadly passed away after an injury he suffered in a match. Hughes had great potential and was considered as one of Australia's future star batsmen. He made a dream debut, hitting a ton in his first ODI. He did so against Sri Lanka in 2013 in Sri Lanka's tour of Australia.
Hughes scored 112 runs from 129 balls. Australia thus scored 305 in the allotted 50 overs. Sri Lanka was routed, getting bowled out for just 198 in 40 overs. Predictably, Hughes was named the Player of the Match for his century.
#4. Martin Guptill
Martin Guptill's batting prowess cannot be understated. He is a New Zealand veteran and is the first Kiwi batsman to score a double century in ODIs. He made his ODI debut in 2008 against West Indies. West Indies were touring New Zealand, and these two teams met in Auckland.
Guptill had an explosive debut, scoring 122 runs from 135 balls. His knock boosted New Zealand to a respected total of 275. Chasing 276, West Indies were cruising smoothly at 64/0 in 10.3 overs when it started raining. In the end, the rain stopped play and the match was cancelled. While New Zealand did not get a proper win, Guptill certainly made waves in his very first ODI.
#5. Andy Flower
Andy Flower is a former Zimbabwe coach and captain. Statistically, Flower is the greatest batsman Zimbabwe has ever produced. Flower made his ODI debut in the 1992 World Cup against Sri Lanka. He made the most of his opportunity, scoring an ODI century on debut.
Flower scored an unbeaten 115 from 152 balls. Unfortunately, Zimbabwe lost the match by 3 wickets. Flower was declared the Player of the match but was on the losing team that day. He has since then carved out a great coaching career for himself, coaching teams like England and Zimbabwe.