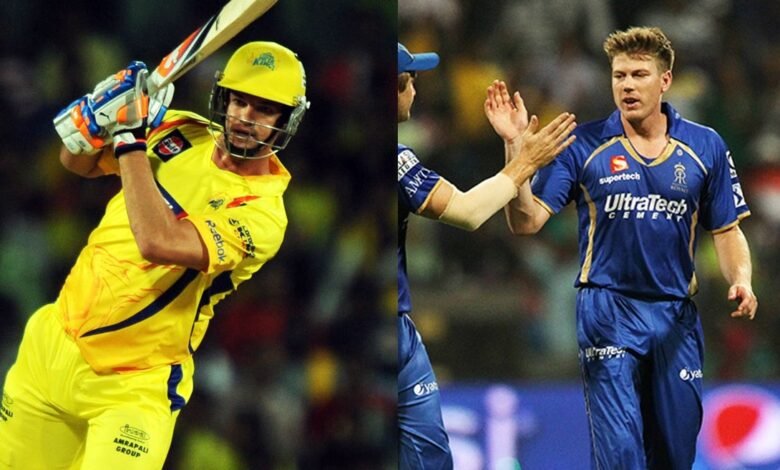 A mega-auction is an opportunity for teams to reset their teams for the next cycle in the competition. Being an Indian league, usually, the domestic players are preferred to be retained for various reasons. However, there have been a few elite foreigners who have also been retained. Keeping hold of an overseas star might be risky, but we have seen the decision come off on many occasions. There have also been a few occurrences when the same has not been successful. In this article, we take a look at five foreigners you may not know who was once retained before a mega-auction in IPL history.
1) Albie Morkel – IPL 2011 (Chennai Super Kings)
IPL 2011 was the first occasion when franchises had to retain players before a mega-auction. All teams had seen the functioning of the league and hence, there was widespread interest in the decision that the teams would take. Two new teams were coming in, and this further added to the excitement.
Albie Morkel was a fine cricketer for CSK, and before the 2011 mega-auction, he was retained for $500,000. He was the fourth retention for the franchise after MS Dhoni, Suresh Raina and Murali Vijay. The South African had taken 41 wickets until then and had helped the franchise lift the title in 2010. Hence, he was retained by the team.
2) David Miller – IPL 2014 (Punjab Kings)
David Miller started IPL on a sensational note. In IPL 2013, he scored 418 runs including a stunning century that made many stand up and take notice of his talent.
Punjab Kings retained him as the first retention and decided that he was worth INR 12.5 Cr. Although Miller did well in 2014 and a few subsequent seasons, he failed to realize his potential fully. There are chances that he might even go unsold at IPL 2022 mega-auction.
3) Dale Steyn – IPL 2014 (Sunrisers Hyderabad)
Dale Steyn is one of the popular IPL players who will not be part of the IPL 2022 mega-auction. Recently, the South African announced his retirement from the game. In the initial seasons, Steyn was one of the best overseas bowlers in the competition.
However, not many remember that he was actually once retained before a mega-auction in IPL. In 2014, along with Shikhar Dhawan, Steyn was retained at INR 9.5 Cr by Sunrisers Hyderabad. Later Steyn had to suffer a lot of injuries and could not have the desired impact.
4) James Faulkner – IPL 2014 (Rajasthan Royals)
James Faulkner is one of the foreigners you may not know who was once retained before a mega-auction in IPL history. It is surprising considering that Faulkner has not been part of the league for a few years now. However, back then, he was a rage in the tournament.
Especially in IPL 2013, the Australian all-rounder collected 28 wickets at an average of 13.54 and an economy of 6.76. Hence, Rajasthan Royals retained him at INR 9.5 Cr. However, it was a failed move as the next season, Faulkner could produce only 11 scalps.
5) Chris Morris – IPL 2018 (Delhi Capitals)
Chris Morris has been earning well in IPL off late. If you go back a few years in the competition, the South African's popularity was soaring even high. In fact, before IPL 2018, he was retained by Delhi Capitals along with Rishabh Pant and Shreyas Iyer.
Morris did well for RCB in IPL 2020 but could not repeat the impact at Rajasthan Royals. Despite this, at the IPL 2022 mega-auction, Morris could extract a decent bid especially with two new franchises coming in.