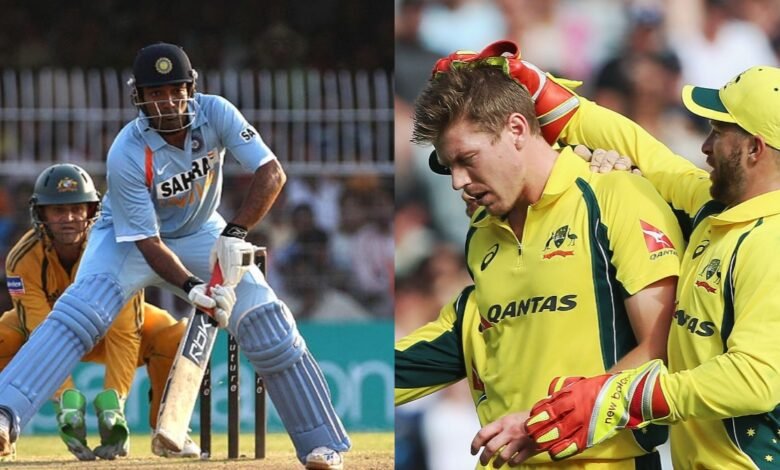 It is a common occurrence to witness cricketers doing well initially but tapering off later on. This is all the more prevalent in ODIs, where the bilateral series have allowed teams to chop and change their combinations often. Otherwise, as well, as players start getting into their careers, their weaknesses are found out by the opposition, and eventually, these cricketers start to struggle. In this article, we take a look at five cricketers who started well but then faded away in ODI cricket.
1) Robin Uthappa (India) – Scored 86 runs on ODI debut
ODI Stats: Matches – 46 || Runs – 934 || Average – 25.94
Robin Uthappa is one of the cricketers who started well but then faded away in ODI cricket. The Karnataka lad made his debut against England in 2006 and got to 86 runs on his debut. It was a sensational start for the player who hit another half-century two games later. He further extended his good run by helping India win against England by scoring 47* runs in the middle-order.
In effect, Uthappa played both the 50-over and 20-over World Cups in 2007. However, he did not have a worthy campaign with the bat. After the Asia Cup in 2008, his form dipped further. He was also asked to play out of position in the middle-order, which did not help his confidence. Although he made a comeback in 2015, Uthappa could not hold on to his place due to the intense fight for places in the XI.
2) James Faulkner (Australia) – Was the M.o.M in the 2015 WC Final
ODI Stats: Matches – 69 || Runs – 1032 || Wickets – 96
From his debut in 2013 to the final of the 2015 World Cup, James Faulkner delivered on most days for Australia. He consistently picked wickets while also finishing the games with the bat regularly. The player also scored a spectacular 100 in Bengaluru, the second-fastest by an Australian at that time.
His major achievement, though, is winning the Man of the Match in the final of the 2015 World Cup which Australia won. He picked three wickets and helped his side restrict New Zealand to a gettable score. However, later on, the player failed to be consistent and in turn, lost his place in the team. Since 2017, Faulkner is yet to play an international game.
3) Jesse Ryder (New Zealand) – Controversies derailed his career
ODI Stats: Matches – 48 || Runs – 1362 || Wickets – 12
Although there were concerns regarding his weight, Jesse Ryder started his ODI career on an impressive note. He struck 79* runs in just his second game to help New Zealand chase a total against England. The southpaw made three centuries, one of which took only 46 balls. Ryder also contributed frequently with the ball.
However, it was the controversies that played a hurdle in his career. He had to make many mini-comebacks in his ODI career, but the 2014 opportunity against India was probably his last chance. He was given five games, but Ryder did not score more than 20 runs in a single game. Hence, he never got a chance to play ODIs again.
4) Ahmed Shehzad (Pakistan) – Was compared to Virat Kohli initially
ODI Stats: Matches – 81 || Runs – 2605 || Average – 32.56
The first-ever Pakistani player to score a century in all three formats of the game, from his youth days itself, Ahmed Shehzad was destined for big things in the game. In fact, for his 81-game career so far, a record of 14 fifties and six centuries is actually not bad. However, in the last five games of these 81 matches, Shehzad had scored only 28 runs and the selectors lost trust in him.
Compared with Virat Kohli concerning both looks and batting skills initially, Shehzad's ban due to a doping test failure was a black spot in his career. He further aggravated it with frequent disciplinary mistakes. Hence, he never returned back to the ODI setup.
5) L Balaji (India) – Picked a 4-wicket haul against peak Australia Team
ODI Stats: Matches – 30 || Wickets – 34 || Average – 39.52
L Balaji is also one of the cricketers who started well but then faded away in ODI cricket. Although he was impressive in Tests initially, Balaji also did well in the 50-over format. One of his famous games includes the four-wicket haul that he took against Australia in 2004.
However, in 2005, a stress fracture almost put Balaji's career in jeopardy. For three years, he did not play cricket. Later, around 2008, he executed a comeback, albeit with a remodelled action. Unfortunately, from India's perspective, this move did not yield great dividends. He played one more ODI in 2009 and never returned to the 50-over squad.