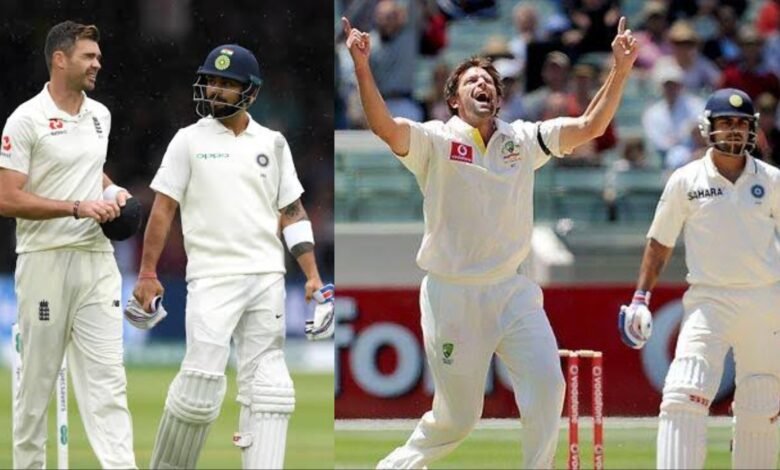 Virat Kohli is one of the greatest batsmen in Test cricket history. The right-handed batsman is the Indian team captain right now. He has played 93 Test matches in his career so far. Kohli has aggregated 7,547 Test runs for India. He has scored 27 centuries.
The Indian skipper also has seven double tons to his name. Besides, Virat Kohli has a fantastic batting average of 51.69 in the longest format of the game. Virat has rarely lost his wicket before opening his account in a Test match. There have been five instances so far in his career where a bowler dismissed him on the first ball that Virat faced in a Test innings. In this listicle today, we will look at the five bowlers who have dismissed Virat for a golden duck in Test cricket.
5. James Anderson dismissed Virat Kohli for a golden duck in Nottingham, 2021
Virat Kohli was at the top of his game in England in 2018. No one can forget how he destroyed the English bowling lineup. He led his team from the front. English fast bowler James Anderson could not dismiss him even once. However, in 2021, Anderson won the first battle against Kohli.
The first Test of the 2021 series happened at Trent Bridge. Virat Kohli came out to bat at number four. James Anderson bowled a delivery outside off. Kohli edged it straight into the hands of the wicket-keeper Jos Buttler. India still took a decent first-innings lead.
4. Kemar Roach
Kemar Roach is the only West Indies bowler in this list. The West Indies team has declined over the years. When we consider Test cricket, West Indies team is no longer the same. Earlier, their fast bowlers troubled almost every batsman in the world. However, the same is not the case now.
Roach is the only Caribbean bowler to send Virat Kohli back to the pavilion on the first ball he faced in a Test innings. It happened in 2019. Jamaica hosted the Test match. In the second innings, Kohli came out at number four and handed a catch to wicket-keeper Jahmar Hamilton. Still, India won by 257 runs.
3. Stuart Broad
As mentioned ahead, Virat Kohli was in top form during the 2018 Test series against England. He seemed to have mastered the English conditions. However, Stuart Broad made sure Kohli did not end the series on a high. The last Test happened in London. Kennington Oval hosted the match.
India needed 464 runs in the fourth innings to win. Kohli came out to bat early as India were down to 2/2. Broad dismissed him caught behind on the first ball. Jonny Bairstow took the catch. England went on to win the match by 118 runs.
2. Liam Plunkett
Liam Plunkett was the first English bowler to dismiss Virat Kohli for a golden duck. It was in 2014 Test series between India and England. Kohli struggled a lot in that series. He got out on first ball in the Lord's Test. It was the second innings of Team India.
Kohli batted at number four. Plunkett rattled his stumps on the first ball. Still, India gave a 319-run target to England. Ishant Sharma's magical spell helped India win the match. India had won that match at Lord's by 95 runs.
1. Ben Hilfenhaus – 1st bowler to dismiss Virat Kohli for a golden duck in Tests
Australian pacer Ben Hilfenhaus was the first bowler to dismiss Virat Kohli for a golden duck in Tests. It was in Boxing Day Test of 2011. MCG hosted the match. India needed 292 runs to win. They were down to 68/4 when Virat Kohli came out to bat.
Unfortunately, Kohli got LBW on the first ball. It was his maiden golden duck in whites. However, he has dominated Down Under since then. No other Australian bowler has dismissed him for a golden duck so far in his Test career. It shows how well he has played against the Aussies.